Please note that links on older archive pages are often not active. These pages serve purely as an informational archive. If you have trouble obtaining the information you need from this site, please email the webmaster with your questions.
---
February 10, 2006
The Sonex and Waiex Sport Trainer (ST) Modifications have been released. This 19-page Adobe Acrobat (pdf, 2.8MB) File contains step-by-step instructions including part detail drawings and installation images. This file can be downloaded through this link, which has also been posted to the Drawing Revisions Page: Sonex_ST_Install_021706A.pdf
---
February 7, 2006
Congratulations to Phil Simon and Jerry Bassler, who flew their AeroVee Powered Sonex (S/N 0492) for the first time today! Gold wings are on the way! Check out the latest Sonex Completions.






---
February 6, 2006
Sonex is celebrating another very successful workshop this past weekend. Over fifty attendees from all over the United States made the trip to Oshkosh for an intensive two days on all things Sonex. Special thanks to Sonex Pilot Marty Smiltneek, who braved the blustery winter conditions and flew in on Sunday along with Bob Mackey from Falcon Insurance and Charlie Becker from EAA who both gave special presentations. Some images from the event:





---
 February 5, 2006
Congratulations to Jeffry Larson, who flew his Sonex for the first time today. Sonex S/N 0206 was purchased from Ray Haeussler in Canada. Jeffry and his beautiful Sonex are located in Tracy, CA. Check out the latest Sonex Completions.

---
 February 3, 2006
We are making final preparations today for the 31st Sonex Workshop, which will be held this weekend at our factory here in Oshkosh (Feb 4th and 5th). Another large group of attendees will be present.
All Sonex and Waiex Kit orders received after Monday, February 6th will be subject to new pricing. The Xenos kit price is unchanged. The new pricing includes a $500 increase along with some additional components (Note that the approximate value of the new kit additions is $100, the rest of the increase is due to escalating raw material costs). We feel these kits continue to offer the best value per dollar of any aircraft kit available in the market today.
The new pricing on the kits on February 7th, 2006 will be:
Sonex Kit: $13,495
Waiex Kit: $13,995
All current kit owners (and those that place their order before Monday, Feb 6th at 5PM) will be able to purchase the new kit additions either as a sub-kit or as individual parts. These kit additions will be announced on our web site and e-mailed to the sonexplans and sonextalk egroups within the next week or two. They include bushings, springs, and some small additional laser-cut parts. These new parts will not be available for order until they are in stock and ready to ship. Keep your eye on the e-mail lists and web site for the latest news.
---
January 17, 2006
Congratulations to Ken Irwin (Std, Dual Stick, AeroVee, Sonex S/N 0514) who flew his Sonex today! Gold wings are on the way! Check out the latest Sonex Completions.



---
January 10, 2006
Congratulations to Drew Waterworth (Std, Dual Stick, AeroVee, Waiex S/N 0024) who flew his Waiex today! He has the first customer-built Waiex to fly. He built his Waiex in 13 months almost to the day with a full-time job and while working on two other aircraft projects. Gold wings are on the way! Check out the latest Sonex Completions. See the official Sonex Aircraft, LLC Press Release about Drew's Waiex.


---
January 4, 2006
AeroConversions Trim Units are now available.
These units are ideal for the Xenos, Waiex, and Sonex and are the only additional item needed to convert the Sonex to a Sport Trainer. They work exceptionally well for trimming hands off at slow speed compared to using a trim tab system. The cost of the Trim Unit (P/N ACV-T01) is $95, which includes the items needed for a typical installation along with an instruction manual. For more information, view the Trim System FAQ page.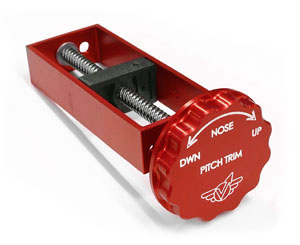 ---
January 1, 2006
2005 was another great year for Sonex,ltd. Many milestones were achieved this year and we have much to be thankful for.
Among the many happenings at Sonex this year:
2 new employees were added.
there are now over 100 Sonex Aircraft flying worldwide.
over 100 complete kits were shipped in 2005.
over 1000 sets of Plans have now been sold for the Sonex Family of Aircraft (Sonex, Waiex, and Xenos)
over 180 AeroVee Engines have been sold along with over 500 AeroCarbs.
the Sonex,ltd Web Site is rapidly approaching its one-millionth hit.
Sonex also received some nice Awards and Recognition in 2005 including:
Oshkosh Chamber's Small Business of the Year in November.
John Monnett Received the Key to the City of Oshkosh in July.
Thanks again to everyone who helped make 2005 such a great success.
We look forward to 2006 with many exciting announcements coming soon. This includes the release of a brand-new web site with hundreds of pages of new information along with the release of some new AeroConversions and Sonex Products.
Sonex,ltd is also undergoing a name change in the new year. Sonex Aircraft, LLC will become our new name on January 1, 2006. The mailing and shipping addresses remain the same. All future payments and inquires should be addressed to Sonex Aircraft, LLC.
Happy New Year from all of us at Sonex!
---