Sonex Aircraft are designed to be constructed using a minimal amount of specialized tools. Being able to build the aircraft using simple tools is just one more way in which Sonex Aircraft keep your construction costs low, offering the Best Performance Per Dollar!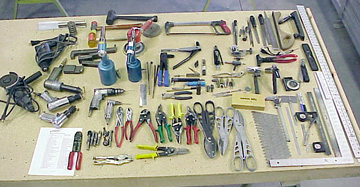 Tech Updates Mailing List
Subscribe to the Sonex Aircraft Technical Updates Mailing List below (part of the Sonex and AeroConversions Web Updates mailing list) for automatic email notification of new drawing revisions, service bulletins and other technical documentation.
---
Sonex Recommended Tool Videos
Sonex, LLC now has a 3-part video series discussing the tools recommended to build a Sonex Aircraft.
---
Tool Lists
Below is a listing of tools recommended to complete Sonex kits, categorized by supplier. If you have additional questions about tools, please Contact Sonex Aircraft Technical Support.
Recommended Aircraft-Specific Tools:
Part Number
Description
Suggested for Tail Kit
Qty (Full Project)
Wicks: 200-SHP
Cleco Pliers (Pliers)
X
1
Wicks: AT551X
Clecos, 3/32"
X
200
Wicks: AT552X
Clecos, 1/8"
X
200
Wicks: AT553X
Clecos, 5/32" (Qty 10 required of using Pre-Assembled Main Wing Spars)
100
Wicks: AT554X
Clecos, 3/16"
X
10
Wicks: 1003-100
Counter Sink, 100 degree (1/8" ,#30)
1
Wicks: 5102D-1/8
Dimpler for Pop Rivets
1
Wicks: 5102D-3/32
Dimper for 3/32 Rivets
1
Wicks: TP44-0
Hand Seamer (Offset)
X
1
Wicks: M-1R
Snips, Aviation ,Left hand
1
Wicks: M-2R
Snips, Aviation ,Right hand
1
Wicks: MC14
Snips, Combination (Andy 14")
X
1
Wicks: F4246A3
File, Chain Saw, Round
X
1
Wicks: F4246A6
File, Chain Saw, Flat
X
1
Wicks: F3753
3M Scotch Brite Wheel
X
1
Wicks: 1261ME
Meter Stick
1
Wicks: 6CLAMP
C-Clamp with Swivel Pads
X
2
Wicks: S4275T
Standard Aircraft Handbook
X
1
Wicks: 988-40
Drill Bits-#40 Size
X
24
Wicks: 988-30
Drill Bits-#30 Size
X
24
Wicks: 988-21
Drill Bits-#21 Size
X
4
Wicks: VX10
File, Vixen
X
1
Wicks: 1046
Speed Deburring Tool
X
1
Wicks: 500
Fluting Pliers
1
Wicks Aircraft Supply
1-800-221-9425
www.wicksaircraft.com
Recommended Local Hardware Store Tools:
Description
Suggested for Tail Kit
Band Saw, wood cutting, 5-6 TPI blade (table model is ok)
Compressor, Small
X
DA Sander (Air or Electric)
Drill Press, Small (table model is ok)
Electric Drill, 3/8 USR
X
Grinder, Bench
X
Mallet, Plastic Tip (Sears Craftsman PN: 38292)
X
Pneumatic "Pop" Riveter
X
Hand "Pop" Rivet Tool
X
Spiral Cutter (Drill Bit)
Straight Edge, 3' (Ruler)
X
Wrenches, SAE
X
Wrenches, Socket
X
Sharpie Permanent Markers - colored (blue or red) & black; both fine point and ultra fine point
X