In addition to aircraft plans, Sonex, LLC offers outstanding support to our builders via a host of exceptionally-written technical manuals for our products. Most Sonex technical manuals are available for download from our web site. If you have lost a manual that can not be obtained separately from Sonex, LLC products, please Contact Sonex Aircraft Technical Support to request a replacement.
Many products and kit components also come with single- or multiple-page instruction sheets to ease the installation process. Replacement instruction sheets are available for download in PDF format from our Instruction Sheets Page.
Tech Updates Mailing List
Subscribe to the Sonex Aircraft Technical Updates Mailing List below (part of the Sonex and AeroConversions Web Updates mailing list) for automatic email notification of new drawing revisions, service bulletins and other technical documentation.
---
Flight Manual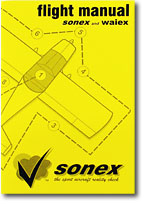 Every Set of Sonex Aircraft plans ships with a Flight Manual specific to the aircraft model.
The Flight Manual serves as your aircraft's Pilot's Operating Handbook and is pre-formatted to accept all performance data collected during your initial flight test period. Once all data is collected, the builder-completed Flight Manual is a professionally-formatted document with functionality and ease-of-use rivaling any high-quality production aircraft POH.
Not Available for Download
Replacement Copies: $10.00
Order Now
---
AeroConversions Manuals and Instruction Sheets
All AeroConversions manuals and instruction sheets for products such as the AeroVee Engine Kit, AeroInjector and more are available for Free Download from the AeroConversions Web Site.
See More AeroConversions Downloads
---
Sonex/Jabiru Installation Guide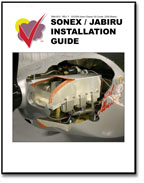 The Sonex/Jabiru Installation Guide gives full firewall-forward guidance for installing your Jabiru engine using Sonex factory-tested and proven techniques and materials. The Installation guide is specific to Sonex airframes for a clean and simple Jabiru installation, but much of the information can be readily applied to installation in other airframes.
The installation guide features step-by-step instructions, firewall-forward hardware and accessory shopping lists, and crystal-clear photographs and illustrations. This manual is a companion to the AeroConversions Jabiru Cooling Baffle Kit.
Download: Sonex/Jabiru Installation Guide. This is the current version of the Sonex/Jabiru Installation Guide, and is subject to change without notice. Please Contact Sonex Aircraft Technical Support with specific questions related your Jabiru engine installation.
---