The following events are opportunities to visit the Sonex factory or see Sonex Aircraft and AeroConversions products at airshows. Holiday and shut-down closings are also listed below.
Be sure to also visit our Sonex Builders' Events Calendar for listings of outstanding grassroots builder events near you!
2020 Sonex Holiday Closure Dates
---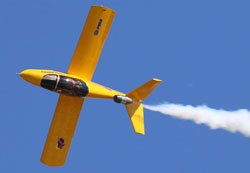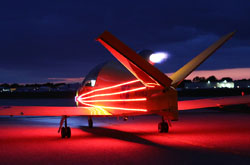 ---
Sun 'n Fun International Fly-In & Expo
May 5-10: Lakeland, FL
Sonex Aircraft WILL NOT be exhibiting at Sun 'n Fun 2020. We are too busy with the development of the two-place SubSonex JSX-2T and fulfillment of other orders and contracts. Sun 'n Fun has always struggled to provide Sonex with adequate return on our investment of the considerable time and expense required to field an exhibit.
You can still catch the SubSonex Personal Jet performing at Sun 'n Fun 2020 with Bob Carlton of Vertigo Airshows!
---
Sonex Aircraft Open House and Homecoming Fly-In
July 19, 2019, 10:00 am to 2:00 pm: Oshkosh, WI
Our 17th annual Sonex Open House and Homecoming Fly-In event will be held the day before the official start of EAA AirVenture Oshkosh. Hours: 10:00 am to 2:00 pm.
Stop-by and tour the Sonex factory. Builders, make sure that you stick-around for the group photo at lunch time! All Sonex pilots flying-in to AirVenture are invited to bring their aircraft to this event on Sunday for all to see. You can then participate in the traditional "mass taxi arrival" across the field to show grounds and Sonex homebuilt parking, along with the fleet of factory prototype aircraft!
For Fly-In taxi and parking instructions, download our Sonex Aircraft Fly-In Traffic Instructions
Also be sure to download and study the EAA AirVenture Oshkosh 2020 NOTAM (Not Yet Available).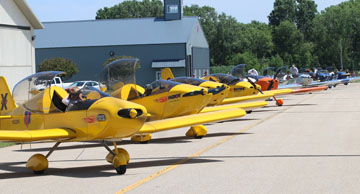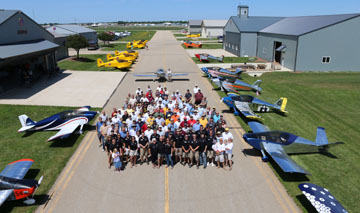 ---
EAA AirVenture Oshkosh
July 20-26, 2020: Oshkosh, WI
As always, Sonex Aircraft will be exhibiting at the 2020 EAA AirVenture Oshkosh air show. Stop by and see us in the new and improved Kit Aircraft Display area Booth 602 and 603!
Factory Tours:
Sonex will be offering tours of our factory headquarters facility Tuesday July 21st through Friday July 24th at 9am, and Saturday July 25th at 10am. You can drive directly to Sonex Aircraft, or RSVP to catch free transportation from the Sonex exhibit booth on AirVenture grounds (transportation back to AirVenture grounds also provided). Sign-up for a tour and RSVP for transportation by Contacting Sonex
NOTE: Transportation for 2020 may be limited. If at all-possible, please provide your own transportation to and from the Sonex factory for our tour.
Part Order Pickups During AirVenture:
Sonex Aircraft will again be accommodating part order pickups during AirVenture this year. All part orders must be made in-advance. We recommend that all orders be placed as soon as possible prior to AirVenture to help ensure availability.
Pickups will be made by appointment only, and appointments will be available during the following dates & times at the Sonex Factory (pickups not available at the Sonex exhibit booth):
Sunday, July 19 (Sonex Open House): 10am to 2pm
Monday, July 20 through Friday, July 24: 8am to 11:00am
Note that the office may be closed early on any given day during AirVenture if no pickups are scheduled. Any questions about AirVenture part order pickups may be directed to our Customer Service team at: orders@sonexaircraft.com
Part Returns & RMA's:
Part returns for credit or inspection/service will only be accepted with a pre-arranged RMA, and will only be accepted at the Sonex Factory. RMA's will not be accepted without an RMA number, and will not be accepted at the Sonex exhibit booth. Contact Sonex Product Support to request an RMA.
Flying In to AirVenture:
For Fly-In taxi and parking instructions, download our Sonex Aircraft Fly-In Traffic Instructions (416kb PDF File). Also be sure to download and study the EAA AirVenture Oshkosh 2020 NOTAM (Not Yet Available).
Planning a Sonex Builder Event for AirVenture?
Are you planning a Sonex Builder get-together at your campsite, the beer tent, or at a restaurant or hotel during AirVenture? Don't forget to submit the gathering to our Sonex Builders' Events Calendar!
Chester V's: Sonex Aircraft's Favorite Hangout!
Looking for a place to unwind after the show and maybe run-into some of your favorite Sonex staffers? Check-out Chester V's Gastropub!
Located at 2505 Oregon Street, Chester V's is on the approach end of Runway 27 in the former Mario's restaurant location with a beautiful renovation of the building including an outdoor bar and two patio seating areas. Chester V's serves a wide variety of craft beers, wines, quality hand-crafted cocktails and outstanding food! Be sure to check out the pub tables inside, where you can have your own beer tap with 4 beer varieties per table, all tracked on an iPad!
Please support our friends at Chester V's Gastropub, and we hope to see you there!
---
2020 Sonex Holiday Closure Dates
Sonex Aircraft will be closed for the following holidays during 2020:
Coronavirus and COVID-19 Precautions at Sonex Aircraft
In-light of the Coronavirus and COVID-19 world-wide health crisis, Sonex Aircraft is taking precautions for the safety of our staff and customers. While we continue work to keep orders shipping on-schedule, our staff is performing many functions remotely. We ask that all communications be sent using the Contact Form on our web site, whenever possible. Please also note that we will be closed to factory tours until further notice.
We realize that for many of you, all this alone time is a great opportunity to work on your aircraft project! We will do our best to answer inquiries in a timely manner and keep your orders shipping on-time. If you have any questions or concerns, please don't hesitate to contact us.
May 25, 2020: Memorial Day
July 3, 2020: Independence Day Holiday
September 7, 2020: Labor Day
November 26-27, 2020: Thanksgiving Holiday
December 24, 2020 through January 1, 2021: Year-End Holiday Shutdown
Sonex will once again be having a year-end shutdown for inventory and other year-end tasks, along with several staff vacation schedules. Our phone lines will be unavailable during this time, however, urgent email correspondence will be replied to as time allows. Note that we will not be processing orders or conducting shipments during this time. You can contact the various Sonex Aircraft departments via the form on our Contacting Sonex web page.
---