On February 28, 1998 John Monnett lifted-off from Wittman Regional Airport in Oshkosh, WI in a completely new aircraft: Sonex serial number 1, or "SX1." While certainly not the beginning of John Monnett's journey, the first flight of SX1 marked the beginning of the Sonex Story for us and thousands of others worldwide.
As we reflect upon the last 20+ years and look forward to the next, the Sonex ownership and staff want to extend a hearty THANK YOU to our loyal customers and everyone else in our industry and family who has supported us in so-many ways through the years!
---
Our Mission
Sonex Aircraft, LLC is committed to providing the recreational aviation community innovative, cost-effective and efficient aircraft kits, powerplants, and accessories and supporting them with industry-leading customer service.
In addition, Sonex provides leadership to the grass-roots homebuilt community to protect the experimental-amateur built rules and cultivates new pilots and airplane builders through educational efforts.
Our Vision
To continue the Sonex Aircraft heritage of Product Innovation, Affordability, Simplicity, Versatility, Performance, Engineering, and Quality and to expand these themes into a broader aviation marketplace.
Management Team
---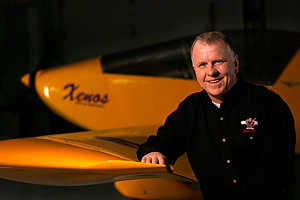 John Monnett
Founder & President, Sonex Aircraft LLC
John, a multi-thousand hour private pilot with both glider and float plane ratings and an A&P Mechanic, has many designs to his credit including the Sonerai sport aircraft series, Monerai sailplane, Moni motorglider, Monex racer, along with numerous other homebuilt aircraft. John has over 40 years of homebuilt aircraft and restoration experience along with extensive engine development and testing experience. John was inducted into the EAA Homebuilder's Hall of Fame in 2001 and his designs are on display in the Udvar-Hazy National Air & Space Museum and the EAA AirVenture Museum.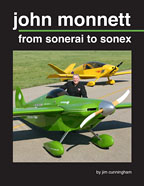 John Monnett Biography:

"John Monnett: from Sonerai to Sonex"
by Jim Cunningham
This 150 page biography of Sonex founder and President John Monnett was written by a Sonex builder and tells the inspiring story of the history behind Sonex Aircraft and AeroConversions products. Signed Copies are available directly from the Sonex Web Store!
---
Betty Monnett
Chief Financial Officer
Betty brings ten years of teaching experience and over twenty years in Public Relations and Advertising. Her outgoing and friendly personality make her one of Sonex's greatest assets. Her primary responsibilities are as Sonex Aircraft CFO, however, Betty's involvement and support knows no bounds.
---
Mark Schaible
General Manager
A full-time member of the Sonex team since June of 2004, Mark currently serves as the General Manager for Sonex Aircraft, LLC and is responsible for most of the company's day-to-day operations while also focusing with Sonex ownership and staff on the strategic vision and direction of the company, working with strategic partnerships, educational outreach programs, sales, advertising, public relations, and strategic planning of new products. Mark has an aviation journalism and photography background, with exposure to multiple facets of aviation and over 20 years of industry experience. Perhaps best known prior to Sonex as an aviation photographer, Mark photographed for EAA for several years before moving on to a freelance career. His images have appeared in publications like Sport Aviation, AOPA Pilot, Aviation Week and Space Technology, Popular Mechanics and many others.
A life-long EAA member, working at Sonex is the fulfillment of a dream to be immersed in an experimental aircraft design and production environment and at home, Mark is working on the construction of Onex S/N ONX0183 - albeit VERY slowly with a wife, four young children and a demanding job!
---
Heather Zahner
Financial Controller, Manager of Customer Service and Human Resources
A member of our Mananagement Team, Heather has been at Sonex since February of 2005 and fits-in perfectly with the flexible and gifted Sonex Staff. She brings an extensive background in Office Management, Customer Service and Accounting, has a talent for organization and efficiency, and shares great understanding of the heart of a small business.
In her spare time, Heather runs a small family-owned real estate rental business with her husband Tony. She and Tony are the proud parents of Gracie-Jean (2006) and James (2010).
Although Heather is in a much more behind-the-scene's role than when she first joined us, she still enjoys hearing from our customers and getting to listen to their stories of building & flying whenever she gets the chance. Don't hesitate to get in touch with her, she'd be happy to hear from you.
Full-Time Staff
---
Kerry Fores
Technical Communications Manager
Kerry has been with Sonex Aircraft since January 2003, but volunteered his time beginning in 1999 when he learned of the development of Sonex prototypes. Kerry scratch-built his Sonex, "Metal Illness", which first flew in February 2004, and was awarded Plans Built Champion at AirVenture 2006. Kerry logged nearly 500 hours in his aircraft in just 7 years, including aerobatics and cross country flights.
Kerry's versatile work background fits perfectly into the Sonex business model and includes technical writing, graphic design, design-draftsman, photography, British car maintenance, and Air Force weapons loading. His primary duties at Sonex Aircraft are technical support - both direct via phone and email, and indirect through the development of technical manuals - but his experience allows him to fill many roles. Kerry is also a freelance writer whose work has appeared in Sport Aviation, Sport Pilot, and Kitplanes magazines, as well as non-aviation titles. He currently writes "Building Time," a monthly column for Kitplanes Magazine.
---
Steven Severson
Purchasing and Warehouse Operations Manager
Steve joined the Sonex staff as a Purchasing Agent in December, 2013. Steve has a diverse background in the warehouse and inventory fields and is a recent graduate from FVTC with an Associates of Applied Science in Supply Chain Management. In addition, he also graduated from FVTC in 2000 with a A.A.S. in Computer Networking, so with his experience and education Steve is proving to be a valuable member to the already talented Sonex family.
Steve joined the Navy in 1992, going to boot camp a month after graduating high school. He spent 5 years in the Navy and 2 of those on a Guided Missile Destroyer, USS Scott (DDG 995). While assigned to the ship he spent 6 months cruising the seas of the Mediterranean and was able to visit many different countries, including Greece, Turkey, Italy, Bulgaria, and Romania.
As a single father, Steve enjoys spending his free time with his 2 kids, Bryanna and Brayden, whom he has every other week. He loves getting out and enjoying any activity in the Wisconsin summers, but especially enjoys golfing and fishing whenever he gets the chance.
---
Cris Nash
Quick Build Department Lead Mechanic
Cris joined Sonex Aircraft, LLC part-time in May of 2016 and became a full-time employee in July, 2017 after graduating from Fox Valley Technical College with an Aircraft Electronics degree. He has been an EAA member since 2007 and has been involved in aviation in many forms since he was a kid. He has had a strong interest in homebuilt aircraft and the opportunity of working at Sonex has been a dream for many years. Cris' background includes almost 15 years experience with customer service, computers, and electronics.
In his spare time, Cris is working on building his Sonex (S/N 1201). His wife, Melissa, and two kids, Tyler and Claire, regularly assist with building. He also enjoys working on model airplanes, computers and playing Legos/video games with his kids.
---