A tremendous grass-roots network of builders' groups and organizations have formed since Sonex's founding in 1998. These builders' groups provide invaluable camaraderie and peer support, while also hosting numerous fly-in events across the country and around the globe. This page serves as a Directory of Builder Organizations as well as a Calendar of Builders' Events.
---
Builder Organizations Directory | Builders' Events Calendar
---
Builder Organizations Directory
If you are establishing a new Sonex Builder Organization, or would like to change information in your organization's listing below, please Contact Sonex Aircraft!
---
Sonex Builders & Pilots Foundation
The Sonex Builders & Pilots Foundation is a national type club for builders and pilots of Sonex Aircraft designs founded to promote safety and education in building and operating Sonex aircraft.
Events:
The Sonex Builders & Pilots Foundation typically participate in the Great Lakes Sonex Fly-In held in June. Additionally, their Annual Membership Meeting is held each year during EAA AirVenture Oshkosh.
---
American Sonex Association
The American Sonex Association was founded by Sonex builder John Davis in September of 2004 as a way to provide the Southeast with a place to look at, fly in, and talk about the Sonex Aircraft. The entire purpose of the ASA is to provide help, encouragement, and special tools to Sonex builders where ever they might reside.
Events:
The ASA's flagship event is the annual Crossville Fly-In, held in October every year. The Association also hosts the annual North Carolina Spring Fling fly-in.
---
Florida Sonex Association
The Florida Sonex Association was founded in 2008 by Sonex builder Mike January to provide a safe and fun filled membership within Florida and surrounding states, to encourage their flying members to sponsor FSA fly-in events at their home airports, provide assistance to Sonex Aircraft pilots and builders in need if they become stranded or need assistance in construction within the state of Florida, as well as all member states and Canada (members who reside part-time in Florida, as well as other locations).
---
SonexAus (Australia)
SonexAus supports the owners and builders of the Sonex family of homebuilt aircraft. It aims to promote the building of Sonex aircraft as a recreational and educational pursuit and to advocate for the interests of Sonex owners and builders. SonexAus provides a wide range of practical assistance, information and social activities and flyins for the benefit of members and friends. SonexAus will maintain appropriate and effective working relationships and affiliations with SAAA, RAAus, AOPA and other relevant organisations and, if required, represents the interests of Sonex owners and builders with relevant government regulators.
Events:
SonexAus hosts an annual fly-in at Yarrawonga as their flagship event. SonexAus also is an exhibitor, and holds their annual meeting at the Recreational Aviation Australia (RA-Aus) National Convention (Natfly). Additional SonexAus events and fly-ins are organized throughout the year.
---
SonexEuro (Europe)
SonexEuro was founded in 2012 by UK builder Steve Moody to build the Sonex community across all of Europe.
---
Builder Organizations Directory | Builders' Events Calendar
---
Builders' Events Calendar
The following events are being held by Sonex Aircraft builders and are a great way to network and see other builders' projects. Contact Sonex Aircraft to submit your event to this calendar. Feel free to submit pictures of previous events of the same type to be included on this page.
Please note that Sonex Aircraft, LLC will generally not be attending these events. To see factory aircraft and displays, view the Sonex Aircraft, LLC Company Events Calendar. Also note that Sonex Aircraft, LLC has no ownership or affiliation with any associations or type clubs advertising events on this page.
---
May 20, 2017: 3rd Annual Sonex Mile-High Fly-In
Meadow Lake Airport (KFLY) Colorado Springs, CO
Fellow Sonex Builders, Pilots and Friends,
I'm pleased to announce the third-annual "Sonex Mile-High Fly-In!" Please come join builders and pilots from all across Colorado, New Mexico, Kansas and greater Rocky Mountain region for an afternoon of camaraderie and information sharing.
The event will be held near Colorado Springs, CO, at Meadowlake Airport (KFLY), May 20, 2017. Fly-in's and Drive-in are welcome! Arrivals will start around 8:00 am, and the programs at 10:00am. We'll have burgers and dogs on the BBQ for lunch.
The presentations will be informal and interactive, allowing current builders and pilots the chance to pass along what they've learned to others. Some of the topics will include "Flying the AeroVee Turbo," "Tuning your Aero Injector," and "Refining your Engine's Cooling System."
Several of our local pilots plan to give "Sonex Smile Rides" as a way to show off the attraction of a Sonex and to hook future builders!
Meadowlake Airport is situated south of Denver's airspace and at the foot of the Rocky Mountains. It's easy to get in and out, and makes a great destination. This year we'll be located at Carl Benda's sparkling new box hangar, with all the amenities and plenty of hangar space for overnight parking. If you plan to stay overnight, several hotels are close by, and dry camping is also available on the field.
Come out and support the Colorado Sonex Mile-High Club and make some new friends in the process! I look forward to a great turnout.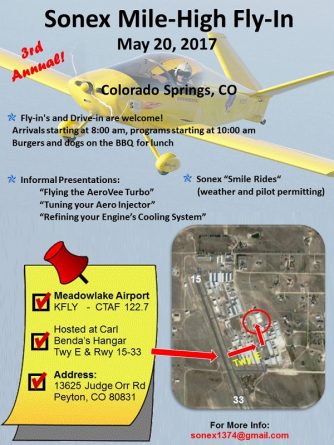 Contact: Jeff Shultz
Email: sonex1374@gmail.com
---
June 17, 2017: 6th Annual NC Sonex Spring Fling
Siler City Municipal Airport (KSCR) Siler City, NC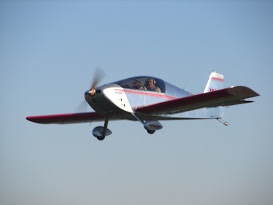 Let's try it again and pray that the wind don't blow! On Saturday June 17, 2017 we are returning to Siler city – KSCR for the 2017 NC Sonex fly-in. The severe winds on May 6 kept most of the eastern US Sonex flyers grounded for the NC Sonex Spring Fling event so we are going to give it another shot and hope that the weather is more favorable in June. We are calling this re-scheduled event the NC Sonex TarHeel State Fly-In.
We would like to extend an invitation to you all to come and join us. Drive in's are encouraged and we hope that all of the Sonex, Waiex, Onex and Xenos flyers in the Carolina's and surrounding states will make the trip to Siler City and support this rescheduled event. If you don't have a Sonex type aircraft, fly-in anyway… all planes are welcome. Camping is allowed at the airport so if you want to overnight you can do that too. Please mark your calendars and register so that we can get an indication for food, drinks and parking. Let's put the word out and make this a super event.
Contact: Peter Van Schalkwyk
Email: shaypete@gmail.com
---
June 24, 2017: 5th Annual Great Lakes Sonex Fly-In
Bolingbrook's Clow International Airport (1C5) Bolingbrook, IL
This year the 5th annual Great Lakes Sonex Fly In will be held on June 24th @ Clow International Airport 1C5 Bolingbrook, Illinois
We have some interesting presentations lined up for all this year (but may not be in the order listed below):
Bryan Cotton – presentation on his Waiex 191 build.
Jim Gould – is a member of the Illinois Aviation Museum and will be discussing painting aircraft.
Russ Pavlock – is building Sonex 1351 and will discuss with us his experience with the B modification kit.
Please mark your calendars and further information will be posted as it becomes available at www.greatlakessonex.com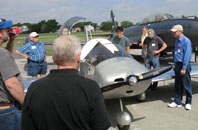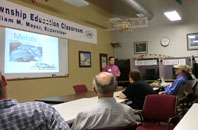 Contact: Al Eidukas
Email: greatlakessonex@gmail.com
---
July 26, 2017, 11am: Sonex Builders and Pilots Foundation Annual Meeting
EAA AirVenture Oshkosh 2016 Sonex Aircraft, LLC Booth#622 (KOSH)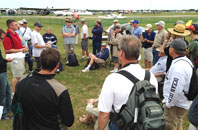 We're pleased to announce that this year's annual Membership Meeting will once again be held at Oshkosh on Wednesday, July 26th. Here are the details:
2017 SBPF Annual Membership Meeting
Located at the Oshkosh flight line adjacent to the Sonex Aircraft LLC Display.
Wednesday, July 26th, 2017.
11:00 a.m. Local time
We hope that anyone who is a member of the SBPF, has an interest in joining, or has an interest in Sonex aircraft is able to attend. We plan on offering updates about our current status, insights on future events, and if you're a voting member, this year there are four proposals for you to consider regarding the leadership of the organization.
Please plan on attending this important event!
We welcome comments as well as any points of discussion our members wish to address during this year's membership meeting. If you're unable to attend Oshkosh but have input for us, please comment on sonexbuilders.net or by contacting one of the SBPF officers.
Thank you for your consideration, and we look forward to visiting with you at Oshkosh 2017!
Michael Farley, President
Mike Singleton, Vice President
Dana Baker, Secretary
Tom Jones, Treasurer
Contact: Sonex Builders and Pilots Foundation
Email: editor@sonexfoundation.org
---
July 26, 2017, 6pm: Sonex Builders and Pilots Foundation Picnic
EAA AirVenture Oshkosh 2016 Sonex Aircraft, LLC Booth#622 (KOSH)
Hey all you Sonex builders, pilots, and enthusiasts
We are planning an event but it must have member support in order to succeed.
We are lucky to have Wayne Daniels as a host for this event, and are planning this as a member-driven BBQ. There is no transportation provided so members need to self organize their way to and from Wayne's. This is a change from the past two years.
The party will be an informal BYOB (Bring your own beverage – if you drive please DO NOT plan on drinking alcohol!) burgers and brats affair at Wayne's 7th Heaven over on the east side of Wittman Field. The date is set as Wednesday July 26th, 2017 and the time is 6 pm local.
The night airshow is a highlight of the week, and we can enjoy it from the perspective of Wayne's backyard. Our plan is to keep costs to a minimum, hopefully around $5 a head.
We have created a signup sheet online – in order to plan for this event you MUST sign up!
http://www.signupgenius.com/go/508094DABAF2BA3FC1-2017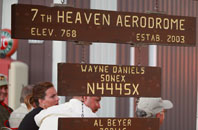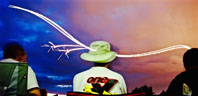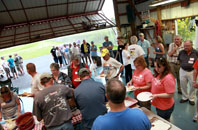 Contact: Sonex Builders and Pilots Foundation
Email: editor@sonexfoundation.org
---
September 9, 2017: 9th Annual Northeast Sonex Fly-In
Dillant-Hopkins Airport (KEEN) Keene, NH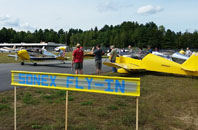 If you have an interest in the Sonex aircraft; if you just like airplanes and enjoy hanging around airports; if you live in the New England/Northeast area, then this event is for you!
This event was conceived because there are now nearly a dozen or more flying Sonex/Waiex/Xenos/Onex aircraft in the area, and even more active builders, as well as those considering building.
We hope to have many flying Sonex/Waiex/Xenos/Onex aircraft attending so the rest of us can admire them (!), to ask questions, and to say, "so that's where that piece goes…" Then there's the rest of the usual fly-in goings-on: talking shop, swapping stories/lies, eating and drinking.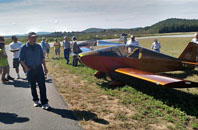 Some Sonex owners may be willing to give rides, which is a great opportunity for current and would-be builders to try out the ride!
Our Web Address is: https://sites.google.com/site/northeastsonexflyin/
Contact: Mike Smith
Email: mike.smith208@verizon.net
---
November 3-5, 2017: 15th Annual Great Southern Sonex Gathering
Critters Lodge - Dillard Ranch Airport (TE01) Centerville, TX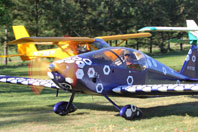 Only a few more days until the 15th Annual Great Southern Sonex Gathering at the Critters Lodge Fly-In/Campout (Nov. 3-5). If you plan to fly in for this, let me know and I'll try to save you a tie-down/camping spot in the Sonex area.
Contact: Mike Singleton
Email: msing48@hotmail.com
---