A tremendous grass-roots network of builders' groups and organizations have formed since Sonex's founding in 1998. These builders' groups provide invaluable camaraderie and peer support, while also hosting numerous fly-in events across the country and around the globe. This page serves as a Directory of Builder Organizations as well as a Calendar of Builders' Events.
---
Builder Organizations Directory | Builders' Events Calendar
---
SonexBuilders.net Discussion Forum
SonexBuilders.net is an independently owned and administered discussion forum for Sonex builders, and has become the primary online gathering place for builders and owners of the type. Note that content is not moderated by Sonex, LLC and like all online forums, some content may not be accurate. It's always best to Contact Sonex as the authoritative source of information.
---
Builder Organizations Directory
If you are establishing a new Sonex Builder Organization, or would like to change information in your organization's listing below, please Contact Sonex Aircraft!
---
Sonex Builders & Pilots Foundation
The Sonex Builders & Pilots Foundation is a national type club for builders and pilots of Sonex Aircraft designs founded to promote safety and education in building and operating Sonex aircraft.
Events:
The Sonex Builders & Pilots Foundation typically participate in the Great Lakes Sonex Fly-In held in June. Additionally, their Annual Membership Meeting is held each year during EAA AirVenture Oshkosh.
---
Florida Sonex Association
The Florida Sonex Association was founded in 2008 by Sonex builder Mike January to provide a safe and fun filled membership within Florida and surrounding states, to encourage their flying members to sponsor FSA fly-in events at their home airports, provide assistance to Sonex Aircraft pilots and builders in need if they become stranded or need assistance in construction within the state of Florida, as well as all member states and Canada (members who reside part-time in Florida, as well as other locations).
---
SonexAus (Australia)
SonexAus supports the owners and builders of the Sonex family of homebuilt aircraft. It aims to promote the building of Sonex aircraft as a recreational and educational pursuit and to advocate for the interests of Sonex owners and builders. SonexAus provides a wide range of practical assistance, information and social activities and flyins for the benefit of members and friends. SonexAus will maintain appropriate and effective working relationships and affiliations with SAAA, RAAus, AOPA and other relevant organisations and, if required, represents the interests of Sonex owners and builders with relevant government regulators.
Events:
SonexAus hosts an annual fly-in at Yarrawonga as their flagship event. SonexAus also is an exhibitor, and holds their annual meeting at the Recreational Aviation Australia (RA-Aus) National Convention (Natfly). Additional SonexAus events and fly-ins are organized throughout the year.
---
SonexEuro (Europe)
SonexEuro was founded in 2012 by UK builder Steve Moody to build the Sonex community across all of Europe.
---
Builder Organizations Directory | Builders' Events Calendar
---
Builders' Events Calendar
The following events are being held by Sonex Aircraft builders and are a great way to network and see other builders' projects. Contact Sonex Aircraft to submit your event to this calendar. Feel free to submit pictures of previous events of the same type to be included on this page.
Please note that Sonex, LLC will generally not be attending these events. To see factory aircraft and displays, view the Sonex, LLC Company Events Calendar. Also note that Sonex, LLC has no ownership or affiliation with any associations or type clubs advertising events on this page.
---
June 4, 2022: Midwest Sonex Fly-In
Drake Field Airport (KFYV) Fayetteville, AR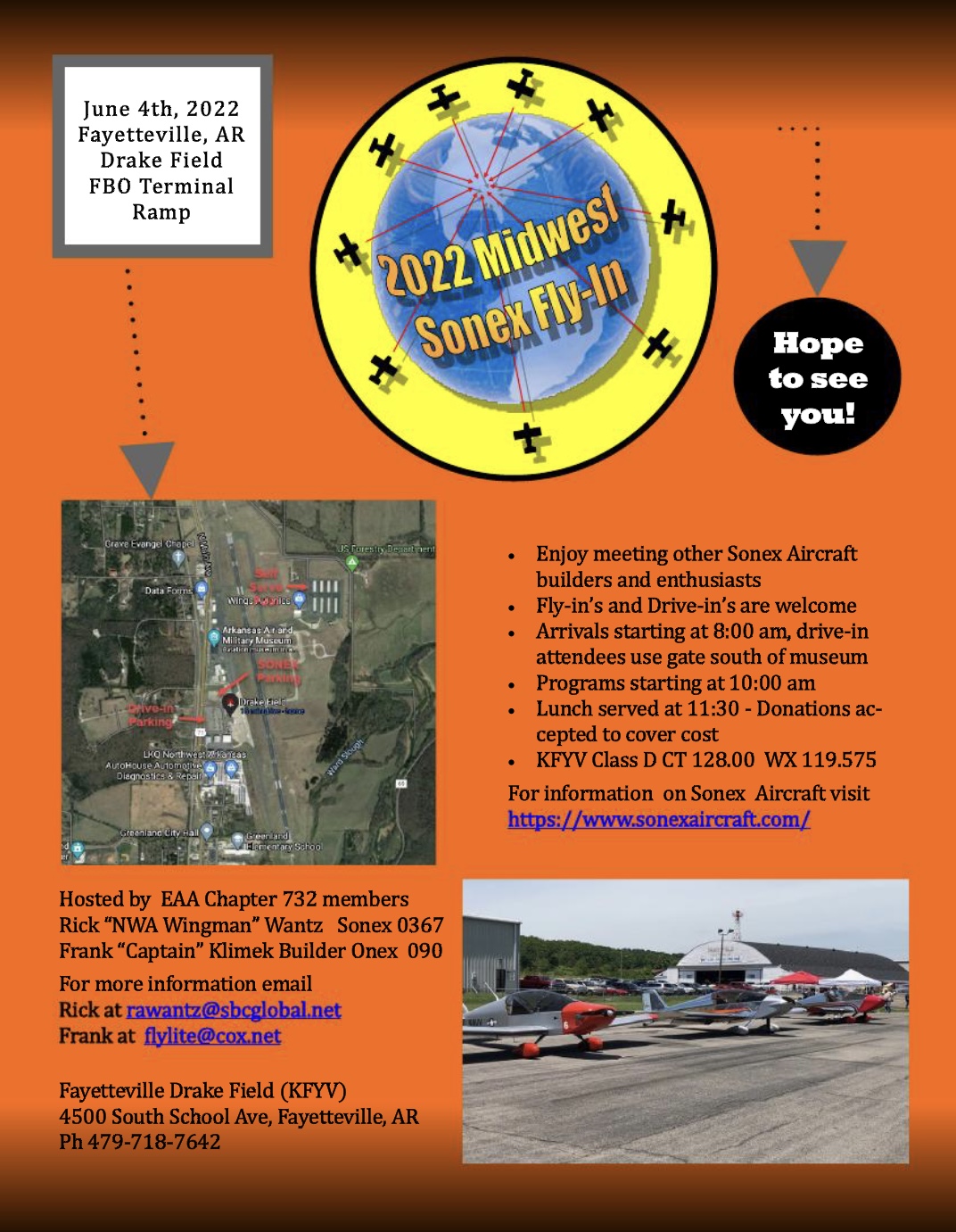 Welcome all Sonex Enthusiasts! Save the date – Saturday June 4th 2022 KFYV Drake Field Airport Fayetteville, AR. Once again, the event will be hosted by Rick "NWA Wingman" Wantz and Frank "Call the tower" Klimek.
Midwest Sonex Fly-in is scheduled for Saturday June 4th. Frank and I are looking forward to seeing all Sonex enthusiasts for another great gathering of our Sonex family! Start making your plans as hotels fill up fast. Fly safe and see you soon!
Enjoy meeting other Sonex Aircraft builders and enthusiasts.
Fly-in's and Drive-in's are welcome.
Arrivals starting at 8:00 am, drive-in attendees use gate south of museum.
Programs starting at 10:00 am.
Lunch served at 11:30 – Donations ac-
cepted to cover cost.
KFYV Class D CT 128.00 WX 119.575
See the Photos from Last Year's Event!
Hope to see you there.
Hosted by EAA Chapter 732 members
Rick "NWA Wingman" Wantz Sonex 0367
Frank "Captain" Klimek Onex ONX0090
Fayetteville Drake Field (KFYV)
4500 South School Ave, Fayetteville, AR
Phone: 479-718-7642
Contact: Rick Wantz
Email: rawantz@sbcglobal.net
---
July 27, 2022: Sonex Builders and Pilots Foundation AirVenture BBQ
Wittman Regional Airport (KOSH) Oshkosh, WI
Hi everyone,
As we have done in years past, there will be a picnic at Wayne Daniel's home on Wednesday evening, July 27th at 6 pm. This is up to us to make it succeed. It is a collective effort. (This is pronounced "Robbie is not in charge")
We need drivers, cooks, someone to collect the money, and people to help clean up. All funds still go to the Sonex Builders and Pilots Foundation in the hopes we can save our type club. (No one profits from this event or from the foundation)
We are lucky to have Wayne Daniels as a host for this event, and are planning this as a member-driven BBQ. There is no transportation provided so members need to self organize their way to and from Wayne's.
Wayne's address is:
3778 Red Oak Ct
Oshkosh WI 54902
The party will be an informal BYOB (Bring your own beverage – if you drive please DO NOT plan on drinking alcohol!) burgers and brats affair at Wayne's 7th Heaven over on the east side of Wittman Field.
The night airshow is a highlight of the week, and we can enjoy it from the perspective of Wayne's backyard. Our plan is to keep costs to a minimum, hopefully around $10 a head.
In order to plan for this event you MUST sign up! https://www.signupgenius.com/go/4090C4CA4A62AA7F58-oshkosh
Contact: Robbie Culver
Email: robbie@sonexfoundation.org
---