A tremendous grass-roots network of builders' groups and organizations have formed since Sonex's founding in 1998. These builders' groups provide invaluable camaraderie and peer support, while also hosting numerous fly-in events across the country and around the globe. This page serves as a Directory of Builder Organizations as well as a Calendar of Builders' Events.
---
Builder Organizations Directory | Builders' Events Calendar
---
Builder Organizations Directory
If you are establishing a new Sonex Builder Organization, or would like to change information in your organization's listing below, please Contact Sonex Aircraft!
---
Sonex Builders & Pilots Foundation
The Sonex Builders & Pilots Foundation is a national type club for builders and pilots of Sonex Aircraft designs founded to promote safety and education in building and operating Sonex aircraft.
Events:
The Sonex Builders & Pilots Foundation typically participate in the Great Lakes Sonex Fly-In held in June. Additionally, their Annual Membership Meeting is held each year during EAA AirVenture Oshkosh.
---
American Sonex Association
The American Sonex Association was founded by Sonex builder John Davis in September of 2004 as a way to provide the Southeast with a place to look at, fly in, and talk about the Sonex Aircraft. The entire purpose of the ASA is to provide help, encouragement, and special tools to Sonex builders where ever they might reside.
Events:
The ASA's flagship event is the annual Crossville Fly-In, held in October every year. The Association also hosts the annual North Carolina Spring Fling fly-in.
---
Florida Sonex Association
The Florida Sonex Association was founded in 2008 by Sonex builder Mike January to provide a safe and fun filled membership within Florida and surrounding states, to encourage their flying members to sponsor FSA fly-in events at their home airports, provide assistance to Sonex Aircraft pilots and builders in need if they become stranded or need assistance in construction within the state of Florida, as well as all member states and Canada (members who reside part-time in Florida, as well as other locations).
---
SonexAus (Australia)
SonexAus supports the owners and builders of the Sonex family of homebuilt aircraft. It aims to promote the building of Sonex aircraft as a recreational and educational pursuit and to advocate for the interests of Sonex owners and builders. SonexAus provides a wide range of practical assistance, information and social activities and flyins for the benefit of members and friends. SonexAus will maintain appropriate and effective working relationships and affiliations with SAAA, RAAus, AOPA and other relevant organisations and, if required, represents the interests of Sonex owners and builders with relevant government regulators.
Events:
SonexAus hosts an annual fly-in at Yarrawonga as their flagship event. SonexAus also is an exhibitor, and holds their annual meeting at the Recreational Aviation Australia (RA-Aus) National Convention (Natfly). Additional SonexAus events and fly-ins are organized throughout the year.
---
SonexEuro (Europe)
SonexEuro was founded in 2012 by UK builder Steve Moody to build the Sonex community across all of Europe.
---
Builder Organizations Directory | Builders' Events Calendar
---
Builders' Events Calendar
The following events are being held by Sonex Aircraft builders and are a great way to network and see other builders' projects. Contact Sonex Aircraft to submit your event to this calendar. Feel free to submit pictures of previous events of the same type to be included on this page.
Please note that Sonex Aircraft, LLC will generally not be attending these events. To see factory aircraft and displays, view the Sonex Aircraft, LLC Company Events Calendar. Also note that Sonex Aircraft, LLC has no ownership or affiliation with any associations or type clubs advertising events on this page.
---
June 5, 2021: Midwest Sonex Fly-In
Drake Field Airport (KFYV) Fayetteville, AR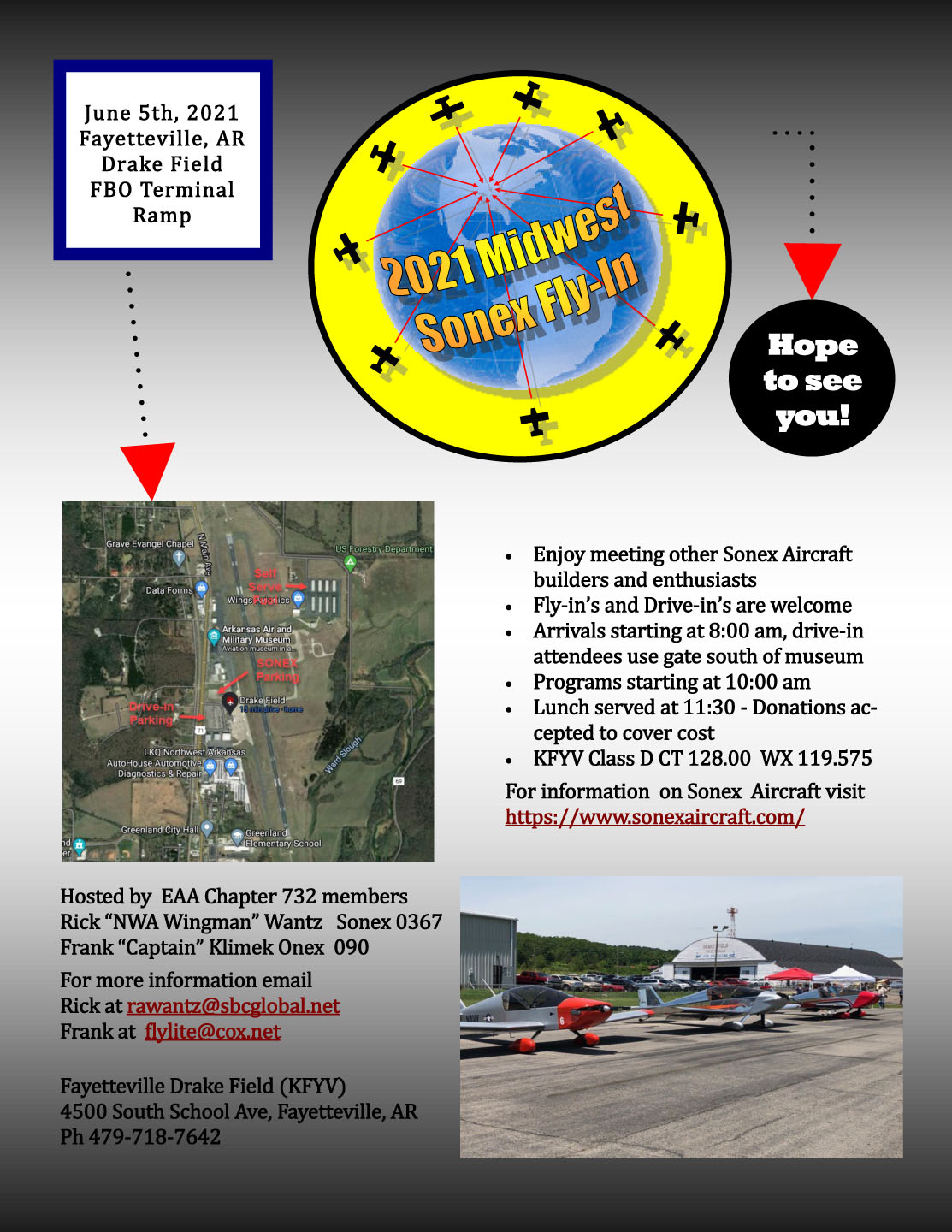 Welcome all Sonex Enthusiasts! Save the date – Saturday June 5th 2021 KFYV Drake Field Airport Fayetteville, AR. Once again, the event will be hosted by Rick "NWA Wingman" Wantz and Frank "Call the tower" Klimek.
The date is Saturday June 5, 2021 starting at 8:00 a.m. and finishing when the last plane departs.
Enjoy meeting other Sonex Aircraft builders and enthusiasts.
Fly-in's and Drive-in's are welcome.
Arrivals starting at 8:00 am, drive-in attendees use gate south of museum.
Programs starting at 10:00 am.
Lunch served at 11:30 – Donations ac-
cepted to cover cost.
KFYV Class D CT 128.00 WX 119.575
See the Photos from Last Year's Event!
Hope to see you there.
Hosted by EAA Chapter 732 members
Rick "NWA Wingman" Wantz Sonex 0367
Frank "Captain" Klimek Onex ONX0090
Fayetteville Drake Field (KFYV)
4500 South School Ave, Fayetteville, AR
Phone: 479-718-7642
Contact: Rick Wantz
Email: rawantz@sbcglobal.net
---