Hardware Kits
Hardware is now included* with all Sonex Aircraft Complete Airframe Kits, Quick Build Kits and Kit-Minus-Tail Packages,
supplied by WBParts.
Hardware packages may also be purchased individually on the
Sonex Web Store.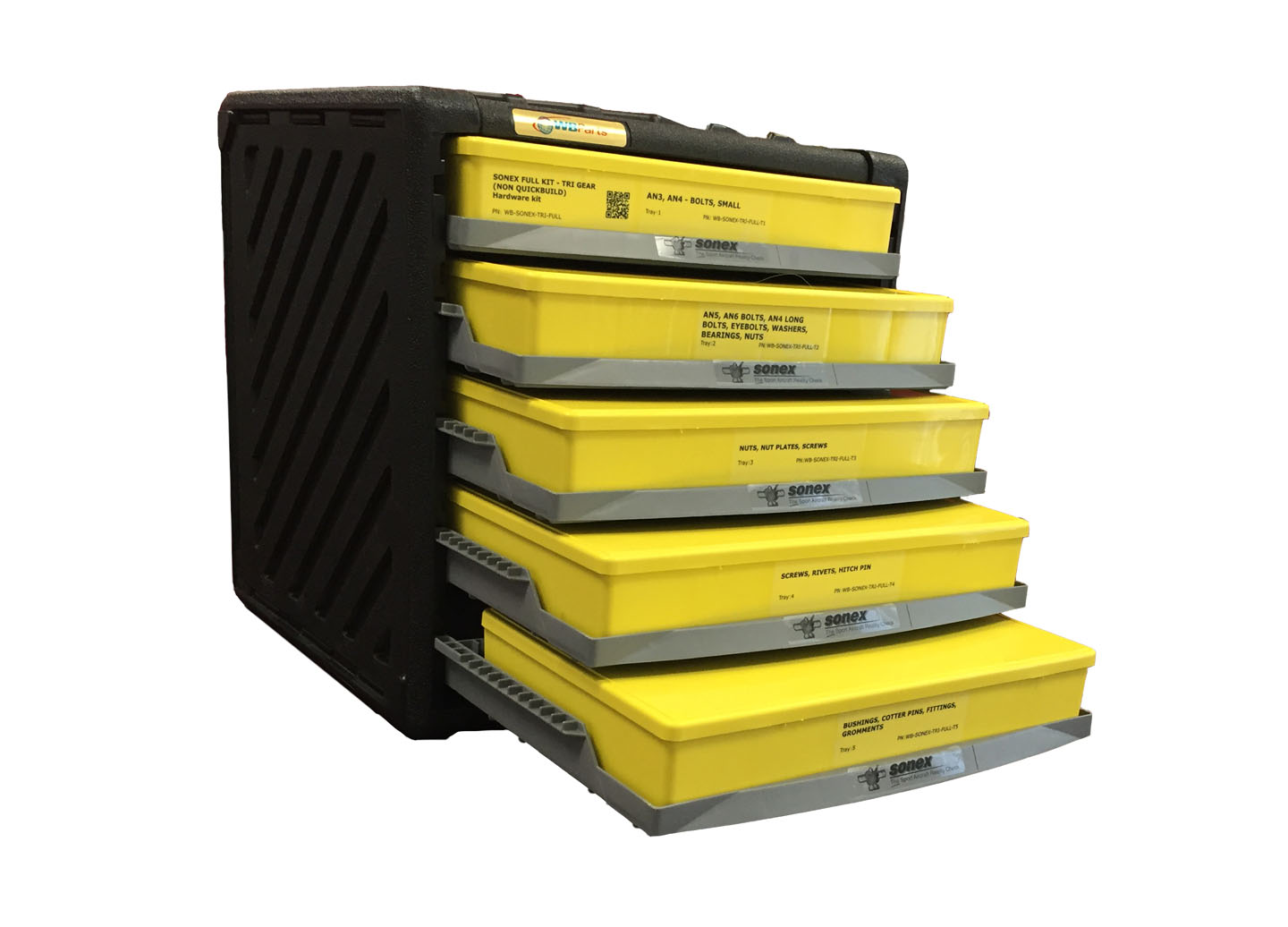 WBParts Hardware Kits
for Sonex Aircraft:

Order Now!
---
WBParts SmartKits
are provided in sturdy impact-resistant plastic toolbox drawer assemblies that are organized, labeled and filled by hardware type and include QR codes for easy re-ordering.
Packing lists for all Sonex Aircraft/WBParts SmartKits can be downloaded from the
WBParts index for Sonex Aircraft.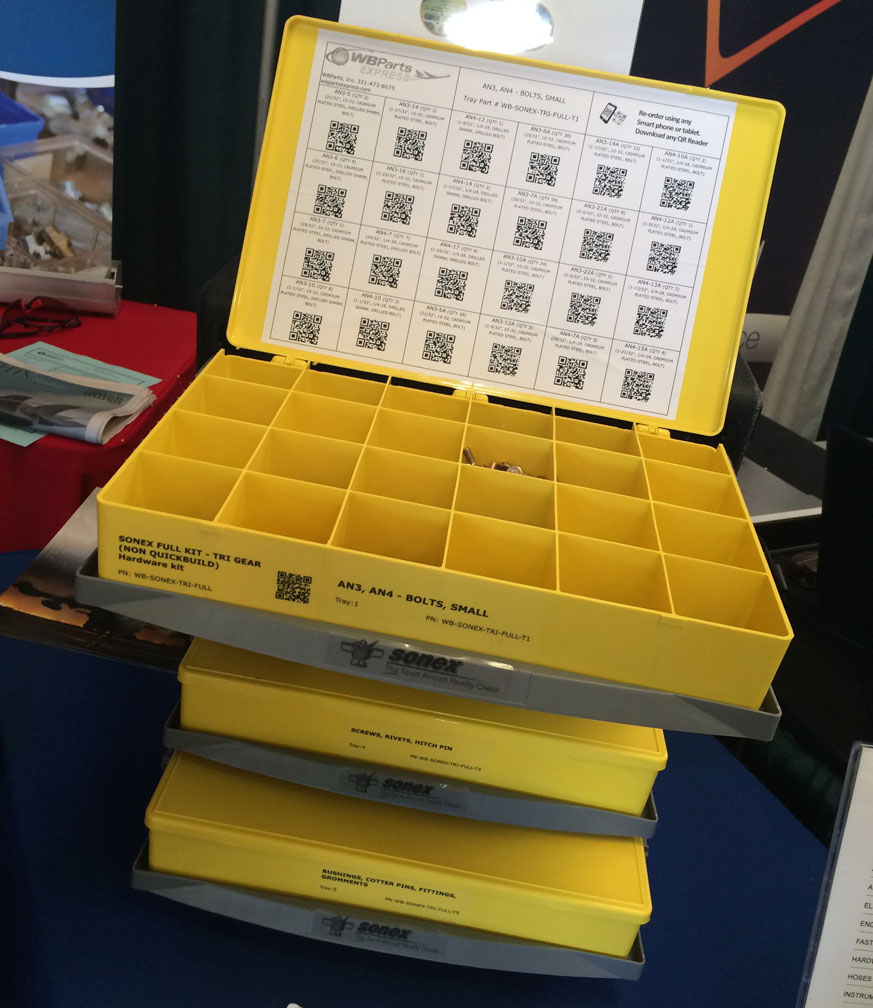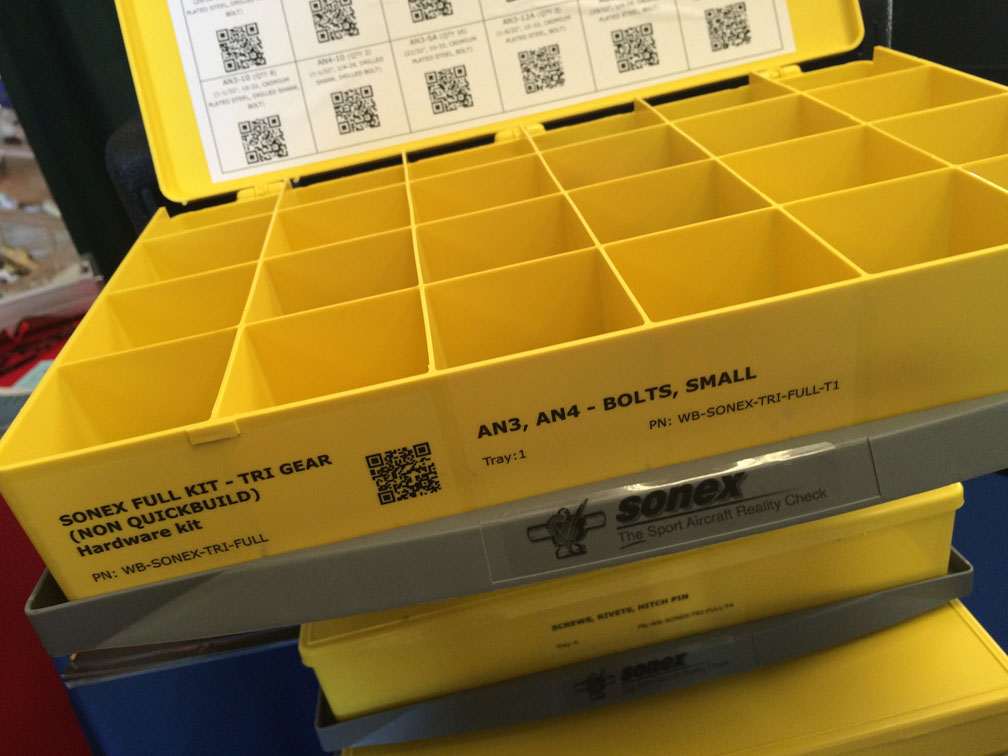 SmartKits bring Six-Sigma / Lean Manufacturing principles to the kit builder's hangar. SmartKits save time and organization, and shortens overall time to completion. Genuine component parts are in each SmartKit and provide manufacturing trace. SmartKits will keep your parts more organized, giving a more enjoyable and fulfilling kit-building experience. Best of all SmartKits can increase the ease of FAA Airworthiness inspection because they incorporate FAA Safety Values.
WBParts, Inc. is an ISO 9001, AS 9120 and FAA AC 00-56 certified distributor. In addition WBParts, Inc. has worked to become ASA-100 Certified in accordance with FAA AC:00-56B and Aviation Suppliers Association standards.
All feedback regarding WBParts SmartKits hardware packages for Sonex Aircraft may be directed to:
jham@wbparts.com
Inclusion of WBParts hardware kits is not a guarantee that all hardware required to finish your aircraft will be provided. Some parts & materials needed can be sourced from local, non-aviation vendors and are not included in WBParts hardware kits. Your specific hardware needs will vary based-on configuration options, equipment selections, personal preference and your own custom touches to the aircraft. The hardware kits are not a guarantee that Sonex Aircraft has or will provide every piece of hardware each builder needs, they are a convenience intended to put the bulk of hardware in each builder's hands.
Download Hardware Lists:
Sonex-B Hardware List
Waiex-B Hardware List
Xenos-B Hardware Lists
Onex Hardware Lists
Xenos (Legacy) Hardware Lists
Sonex (Legacy) Hardware Lists
Waiex (Legacy) Hardware Lists
Note: These lists are compiled by Sonex Aircraft and provided for reference only.