Some aircraft builders are interested in building from plans without purchasing an aircraft kit.
The Legacy (A-Model) Sonex is available for plans or "scratch" building.* Scratch builders can purchase Sonex plans and build the entire aircraft from raw materials,** or they can purchase any of the components or Scratch Building Materials Kits below at any point in their project: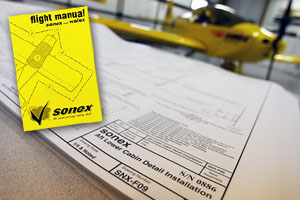 Those interested in scratch-building the Legacy (A-Model) Sonex may order any of the above materials kits after purchasing plans. Note: Scratch Building is only available for Legacy (A-Model) Sonex.
*Scratch Building Availability:
Sonex Plans are available for individual purchase only to customers in the United States, Canada, Australia and New Zealand. Customers in all other countries may only build using a Sonex Aircraft Complete Airframe Kit, Sonex Aircraft Sub-Kits, or Quick Build Kits.
**Sonex spar caps are made from a proprietary extrusion and must be purchased from Sonex to build the aircraft.