Build Your Kits in Stages!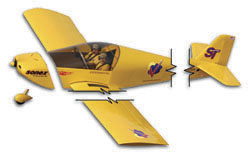 Sonex Aircraft is pleased to offer Sub-Kits! These Sub-Kits are designed to give Sonex Aircraft builders more flexibility and options for constructing the already industry-leading Sonex Aircraft kit values. If you're looking for a way to spread the cost of building a Sonex Aircraft over-time, Sub-Kits are a great way to build without obtaining financing. Once this building path is selected, the builder may purchase Sub-Kits at their own pace of construction and spread out the project investment over the life of the project.
Note: Sub-Kits may be purchaed in any sequence for most aircraft models. Purchasing multiple Sub-Kits in one order will reduce crating and shipping costs for your project.
What's Included
More About the Parts Included in Sub-Kits:
Sonex Aircraft Sub-Kits include all the same labor and time saving features as Sonex Aircraft Complete Airframe Kits including laser-cut skins with pilot holes, pre-formed wing and tail ribs, welded components, formed aluminum, many matched-hole parts, and pre-molded fiberglass parts. A complete listing of kit components is found below (click on the name of each component for a detailed description):
---
What's Not Included:
Engine: There are several approved engine options for Sonex aircraft, including: AeroVee & AeroVee Turbo; Jabiru 3300; UL Power 260 and 350 series; and Rotax 912 series. To find out more, view the Engines page.
Propeller: Sonex Aircraft, LLC works very closely with propeller manufacturers to engineer optimum props for Sonex airframe and engine combinations. To find out more, view the Propellers page.
Instruments: Builders have many options when it comes to selecting instruments. Sonex sells MGL Avionics instrument packages direct to Sonex aircraft builders. To find out more, view the Instruments page.
Upholstry: Builders can make their own upholstry, or choose from Sonex Aircraft's selection of attractive upholstry packages. For more information about Sonex interiors, view the Upholstery page.
Tools: Sonex Aircraft were designed to be constructed with minimal tools, however a small investment in your workshop will be required to get the job done. For more information about tools, view the Required Tools page.
---
The Bottom Line:
What Will my Project Cost? View the Pricing tab of each aircraft model's home page for detailed pricing information, our download our completed aircraft cost estimating worksheet, and see why Sonex aircraft offer the Best Sport Aircraft Performance Per Dollar!