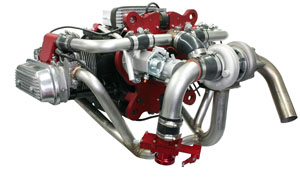 PRESS RELEASE:
FOR IMMEDIATE RELEASE
It's Turbo Time!
Sonex Aircraft Accepts AeroVee Turbo Orders
July 27, 2014, Oshkosh, WI
Sonex Aircraft announced at a press and customer briefing this morning that orders are now being accepted for the long-anticipated AeroVee Turbo, with deliveries to commence in the fourth quarter of 2014. The AeroVee Turbo is rated as a 100 horsepower engine at sea level, and yields significant performance enhancement to the Sonex line of aircraft without breaking the bank. Price of the AeroVee Turbo is $10,995, and an AeroVee Turbo Upgrade package is being made available for installation with existing AeroVee Engines, even those already installed and flying, at a price of $3,995.
"The Sonex Aircraft research and development team has been working on a turbocharged AeroVee since our first installation in mid-2010. Many other projects have competed for our time but our customers were consistent in their desire to have as close to a 'plug and play' turbo installation as possible" said Sonex CEO Jeremy Monnett. "The package we are unveiling today has been thoroughly designed, engineered, and tested in typical Sonex fashion. It has met or exceeded our performance expectations having been run in our engine test cell from May of 2013 thru March of 2014 and flown these past 5 months in Sonex Sport Acro N123SX. I am having am absolute blast flying it!"
An AeroVee Turbo Press Event preview video released earlier this week was shown to the crowd to kick-off to the event ( http://youtu.be/UZDm9tzqu5U ) as an AeroVee Turbo display engine was unveiled. A full Sonex/AeroVee Turbo Video Tour was uploaded to YouTube this morning, demonstrating the performance of the Sonex with AeroVee Turbo installed. ( http://youtu.be/AG3AmNn5CtY ). In a Sonex Aircraft, the AeroVee Turbo will yield a rate of climb up-to 1300 fpm, and a TAS at 8000′ of 175 mph. Specifications of the AeroVee Turbo and Sonex performance specifications with the AeroVee Turbo installed may be downloaded from Sonex Aircraft's AeroConversions web site: http://www.aeroconversions.com
Two Sensenich fixed-pitch propeller options are being offered for AeroVee Turbo installations on Sonex Aircraft. A 54″ diameter x 50″ pitch prop is intended for those wishing to maximize climb performance while still retaining a very-respectable 170 mph TAS cruise capability at 8,000′. A 56″ diameter x 52″ pitch prop will maximize top-end speeds, measured as-high as 187 mph TAS using WOT at 8,000′ (38 in HG MAP) during Sonex/AeroVee Turbo flight test. Designed with simplicity in-mind, the AeroVee Turbo is intended for use with fixed pitch, or ground-adjustable propellers, keeping the package Sport Pilot Eligible by not requiring a constant-speed propeller, and with sea level cruise just under the Sport Pilot maximum speed at 135mph TAS at the Max. Continuous RPM specification for the AeroVee Turbo under 5,000′ MSL, 3200 RPM.
The AeroVee Turbo is the result of an extensive R&D effort dating-back to 2010. After much refinement, the current version of the system fits all propeller-driven models of Sonex Aircraft and has undergone significant testing in Sonex Aircraft's test cell facility and in-flight. "By far the biggest surprise to me has been outstanding cooling performance of the AeroVee Turbo," remarked Jeremy Monnett. "The key engine parameters have been running well within the green arc including CHT's, EGT's, Oil Temp, and Oil Pressure."
"The flight test team appreciated the North/South (18/36) Wittman Regional Airport runway for this early testing," said Sonex CEO Jeremy Monnett. "The Wittman Control Tower staff was very helpful and accommodating to the special requirements of these flights."
The AeroVee Turbo is a pull-through turbo arrangement utilizing the standard AeroVee-sized 32mm AeroInjector. As a "free-floating" system, boost is controlled only by throttle setting limited by a fixed waste gate and power still diminishes with gains in altitude, but losses are not nearly as-drastic as those with a normally-aspirated engine. This allows the cruise speed of an AeroVee Turbo in a Sonex Aircraft at-altitude to eclipse the performance of the 120hp Jabiru 3300 engine.
Sonex Aircraft, LLC is a leader in the experimental kit aircraft industry, providing a series of sport aircraft along with the AeroConversions line of products, which include the AeroVee engine, AeroInjector and ancillary aviation products. Sonex Aircraft's Sonex, Waiex, and Onex sport planes, the Xenos sport motorglider, and the SubSonex Personal Jet offer outstanding performance in an easy to build, easy to fly kit package that can be purchased and completed with full technical support at an unrivaled price. Sonex and AeroConversions continue to invest heavily in developing new products. Our team is committed to providing simple, elegant and low-cost solutions for sport flying. Simply put, Sonex Aircraft and AeroConversions products provide the Best Performance Per Dollar. Check us out at www.SonexAircraft.com and www.AeroConversions.com
HIGH RESOLUTION IMAGES AVAILABLE FOR DOWNLOAD: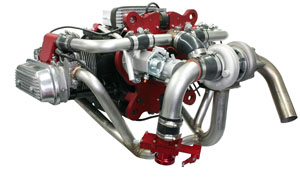 The AeroVee Turbo is a simple system requiring little change from the normally-aspirated AeroVee. Download High Resolution (300 dpi, 1.9mb JPEG file)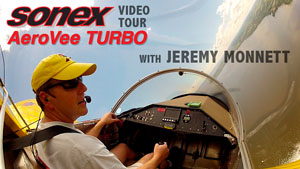 A full-lengh YouTube video, Sonex AeroVee Turbo Video Tour with Jeremy Monnett, has been released this morning illustrating the Turbo's performance in a Sonex.
AEROVEE TURBO PRESS CONFERENCE PREVIEW VIDEO:
http://youtu.be/UZDm9tzqu5U
AEROVEE TURBO VIDEO TOUR (FULL-LENGTH):
http://youtu.be/AG3AmNn5CtY
AEROVEE TURBO HOME PAGE:
http://www.aeroconversions.com/index.html
SONEX AIRCRAFT SCHEDULE OF EVENTS FOR AIRVENTURE 2014:
http://www.sonexaircraft.com/company/events.html
SUBSCRIBE TO THE SUBSONEX PROGRESS UPDATES MAILING LIST:
http://www.sonexaircraft.com/subscribe/#hornetsnest
SUBSCRIBE TO THE SONEX AND AEROCONVERSIONS PUBLIC RELATIONS RSS FEED & MAILING LIST: http://www.sonexaircraft.com/subscribe/#web_updates_list
PRESS CONTACT:
Mark Schaible
Sonex Aircraft, LLC
www.SonexAircraft.com
Phone: (920) 231-8297
Fax:     (920) 426-8333
E-mail: Use our Contact Form
# # #