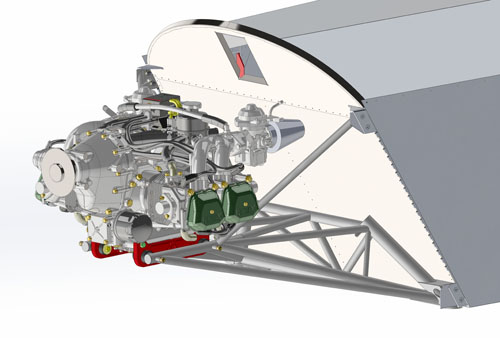 Due to popular demand, Sonex Aircraft is now offering
Rotax engine mounts for legacy Sonex, Waiex and Xenos aircraft!
Orders are now being accepted for engine mounts in both standard and tricycle gear configurations.
Additionally, machined Rotax Attach Bars are being offered by AeroConversions Products for use with custom Rotax 912 engine mounts on any aircraft. The AeroConversions Rotax Attach Bars were developed for B-Model and now in Legacy Sonex Aircraft, and eliminate the need for expensive and complex Rotax ring mounts and Rotax mount rubbers. As a bed mount system, AeroConversions Rotax Attach Bars bolt directly to Rotax 912-series engines and are designed to use simple AeroConversions AeroVee Shock Mount Rubbers, eliminating the complex shock mount geometry found in other Rotax bed mount systems.
Sonex Aircraft builders wishing to install a Rotax 912-series engine will need our new engine mounts, AeroConversions Rotax Attach Bars, AeroVee Rubber Shock Mounts, and a 1-3/8″ prop hub extension (Sonex recommends Saber Mfg. PN 1.375×5 Rotax 912 or equivalent.)