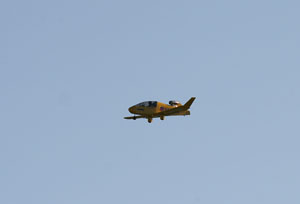 PRESS RELEASE:
FOR IMMEDIATE RELEASE
SubSonex Jet Makes First Flight
August 10, 2011, Oshkosh, WI
Sonex Aircraft, LLC is excited to announce that the SubSonex jet aircraft prototype, JSX-1, made its maiden flight today, August 10, 2011 at Wittman Regional Airport in Oshkosh, WI. The SubSonex was piloted by air show performer and owner of Desert Aerospace LLC, Bob Carlton. The flight lasted approximately 14 minutes and focused on exploring the low-end of the aircraft's speed envelope, including stalls, and a low approach in the landing configuration.
"It's an exciting day for Sonex," said SubSonex designer and Sonex Aircraft, LLC President John Monnett. "We have a test flight plan to expand the envelope of the aircraft, and we'll see where the project takes us from here."
"It was great – flies like an airplane," Carlton said after the flight. "The faster I went, the better it felt." Carlton was selected to fly the aircraft based on his vast experience pioneering light jet aircraft. Bob Carlton is best known for his air show performances with the Super Salto jet sailplane, and is the developer of the Bonus Jet two-seat glider. The engines used on Carlton's aircraft are the same as that used on the SubSonex: The PBS TJ-100.
More information about the SubSonex jet aircraft can be found on the Sonex Aircraft Hornets' Nest Research and Development web site at: http://www.sonexaircraft.com/hornets_nest-subsonex
Sonex Aircraft, LLC is a leader in the experimental kit aircraft industry, providing a series of Sport Pilot eligible kit aircraft and producing the AeroConversions line of products which include the AeroVee engine, AeroInjector and ancillary aviation products. Sonex Aircraft's Sonex and Waiex sport planes, and the Xenos sport motorglider offer outstanding performance in an easy to build, easy to fly kit package that can be purchased and completed with full technical support at an unrivaled price. Sonex and AeroConversions product development is committed to providing simple, elegant and low-cost solutions for sport flying. Simply put, Sonex Aircraft and AeroConversions products provide the best performance per dollar. Check us out at www.SonexAircraft.com and www.AeroConversions.com
HIGH RESOLUTION IMAGES AVAILABLE FOR DOWNLOAD: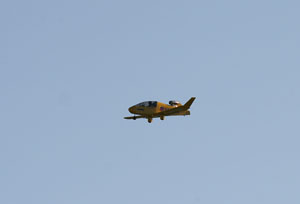 SubSonex in flight over Wittman Regional Airport. Download High Resolution (300 dpi, 1.5mb JPEG file)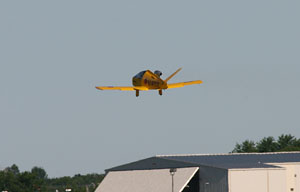 SubSonex jet climbs-out after low approach. Download High Resolution (300 dpi, 1.5mb JPEG file)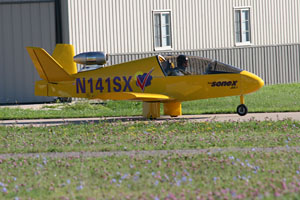 Bob Carlton taxiis the SubSonex back to Sonex hangars after a successful first flight. Download High Resolution (300 dpi, 4.6mb JPEG file)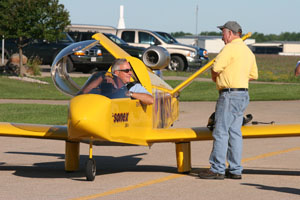 Bob Carlton and John Monnett share congratulations and debrief the SubSonex jet's first flight. Download High Resolution (300 dpi, 4.5mb JPEG file)
MORE INFORMATION ABOUT BOB CARLTON:
DESERT AEROSPACE, LLC: http://www.desertaerospace.com/
VERTIGO AIRSHOWS: http://www.vertigoairshows.com/
SUBSCRIBE TO THE SUBSONEX MAILING LIST:
http://www.sonexaircraft.com/subscribe/#hornetsnest
SUBSCRIBE TO THE SONEX AND AEROCONVERSIONS PUBLIC RELATIONS RSS FEED & MAILING LIST: http://www.sonexaircraft.com/subscribe/#web_updates_list
PRESS CONTACT:
Mark Schaible
Sonex Aircraft, LLC
www.SonexAircraft.com
Phone: (920) 231-8297
Fax:     (920) 426-8333
E-mail: Use our Contact Form
# # #