PRESS RELEASE:
FOR IMMEDIATE RELEASE
SubSonex Personal Jet Model JSX-2 Makes First Flights
July 14, 2014, Oshkosh, WI
Sonex Aircraft is extremely pleased to announce that SubSonex Personal Jet model JSX-2 achieved first flight on Thursday, July 10th, completing a very successful series of initial flight tests through the remainder of the week. "Its flight characteristics can be summed up in two words," remarks JSX-2 test pilot Bob Carlton, "fast & smooth. She handles great and climbs well."
The initial goal of the flight test program was to evaluate the systems, flight controls, gear and overall aircraft geometry, and handling through moderately high speeds, all of which were accomplished on Thursday during three flights. Following recommended FAA flight test protocols, the flight test team began earlier in the week with a slow taxi test and static engine runs progressing through high-speed taxi and finally the July 10th first flight.
The second flight of JSX-2 checked the function of the retractable landing gear and explored higher speed ranges. "With the gear retracted, the noise level is reduced significantly and she accelerates quickly to 150 mph," comments Bob Carlton. "I added at bit of power and she quickly goes through 200. The feeling is glass-smooth." Bob further accelerated to max continuous power to measure cruise speeds at 3,000′. "The air is perfectly calm and she flies like she's on rails. I take a few minutes to just relax and enjoy the sensation of rocketing across the countryside. What an amazing machine."
Thursday's third flight explored handling characteristics at moderate speeds, which proved to be very crisp, and the flight even included a few barrel rolls. "She's similar enough to JSX-1 that I'm feeling pretty comfortable, even with the limited total flight time today," remarked Bob. Some video excerpts of the third flight can be found at: http://youtu.be/lg64aN3SV6g
Stalls were explored during the day's flying and were observed to be well-mannered and to present plenty of warning – in fact, the stall took considerable work to induce. Landings on the new shock-absorbing retractable gear were notably smooth. Two more flights were conducted on Friday to continue the evaluation and to prepare for demonstration fly-by's at EAA AirVenture Oshkosh 2014.
"The flight test team appreciated the North/South (18/36) Wittman Regional Airport runway for this early testing," said Sonex CEO Jeremy Monnett. "The Wittman Control Tower staff was very helpful and accommodating to the special requirements of these flights."
The SubSonex design team will be working to collect and analyze flight data in-order to finalize published performance numbers for the new jet — the last step remaining before SubSonex Kit Reservation Deposit holders are given their opportunity to place firm orders for 2014 kit production, after which time orders will be opened to the general public for deliveries in 2015. The SubSonex will be sold as a Quick Build Kit only, and will include almost everything required to fly with the exception of avionics and paint. Available options for the SubSonex Personal Jet include cabin heat, oxygen, MGL iEFIS touch screen avionics, and more.
JSX-2 is a highly refined version of the SubSonex Personal Jet vs. the original proof-of-concept aircraft, JSX-1. Like JSX-1, the new JSX-2 model is powered by the PBS TJ-100 engine, producing approximately 250 lbs of thrust in an advanced, fully integrated package. The new jet features a larger, more comfortable cockpit, a larger instrument panel, fully retractable landing gear, a BRS full-aircraft recovery parachute, higher fuel capacity in a rotationally molded cross-linked polyethylene fuel cell, easily removable wings, and a more sculpted and aesthetically pleasing nose section. "It's really rewarding to see a rough proof-of-concept prototype in JSX-1 turn into a very refined and  capable product," remarks John Monnett, Sonex Aircraft founder, president and designer of the SubSonex Personal Jet.
Sonex Aircraft, LLC is a leader in the experimental kit aircraft industry, providing a series of sport aircraft along with the AeroConversions line of products, which include the AeroVee engine, AeroInjector and ancillary aviation products. Sonex Aircraft's Sonex, Waiex, and Onex sport planes, the Xenos sport motorglider, and the SubSonex Personal Jet offer outstanding performance in an easy to build, easy to fly kit package that can be purchased and completed with full technical support at an unrivaled price. Sonex and AeroConversions continue to invest heavily in developing new products. Our team is committed to providing simple, elegant and low-cost solutions for sport flying. Simply put, Sonex Aircraft and AeroConversions products provide the Best Performance Per Dollar. Check us out at www.SonexAircraft.com and www.AeroConversions.com
HIGH RESOLUTION IMAGES AVAILABLE FOR DOWNLOAD: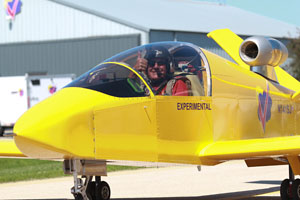 Test pilot Bob Carlton taxi's back to the Sonex ramp with a big "thumbs up" after first flight of SubSonex Personal Jet model JSX-2.
Download High Resolution (300 dpi, 3mb JPEG file)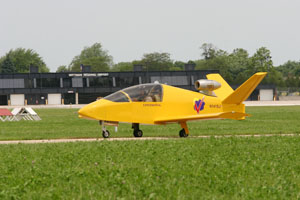 JSX-2 taxi's past Wittman Regional Airport's terminal building. Wittman Airport's large runways and superb facilities are a huge asset to Sonex Aircraft development and flight test programs. Download High Resolution (300 dpi, 3.1mb JPEG file)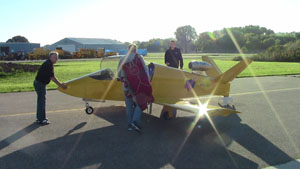 John Monnett prepares to hold-down the nose of JSX-1 for Bob Carlton to climb inside. Although the aircraft is equipped with a BRS full-aircraft parachute, Carlton also wore a bulky seat pack chute for these initial flights of the new design. Download High Resolution (300 dpi, 991kb JPEG file)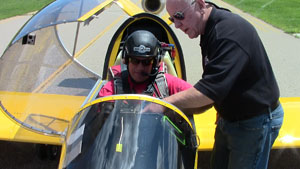 John Monnett assists test pilot Bob Carlton strapping-in and plugging-in to the new aircraft, while the two discuss some final points in-preparation for first flight. Download High Resolution (300 dpi, 1.2mb JPEG file)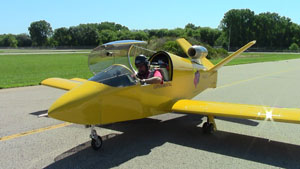 Bob Carlton works-through his checklist for JSX-2 and prepares to start-up the PBS TJ-100 engine. Download High Resolution (300 dpi, 1.2mb JPEG file)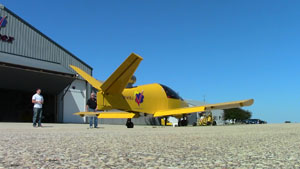 JSX-2 idles on the Sonex Aircraft R&D ramp while the TJ-100 engine automatically completes its engine start and warm-up sequence. Download High Resolution (300 dpi, 1.1mb JPEG file)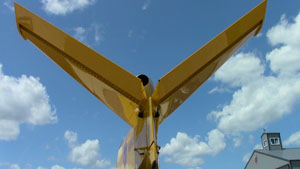 Like its Waiex and Xenos model counterparts, the SubSonex Personal Jet features a "Y-Tail" design, offering more refined control than a conventional V-tail. Download High Resolution (300 dpi, 889kb JPEG file)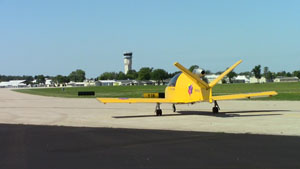 JSX-2 heads to the end of runway 18 for takeoff, Wittman's tower and EAA AirVenture show grounds visible in the background.
Download High Resolution (300 dpi, 901kb JPEG file)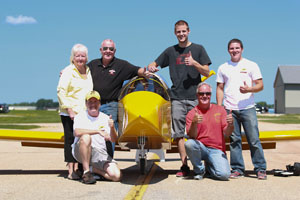 A celebratory "Thumbs Up" from the Sonex Aircraft ownership and SubSonex design, prototyping and test flight team. Clockwise from top-left: CFO Betty Monnett; Founder and President John Monnett, R&D shop prototyping assistant Jake Drummond; R&D prototyping assistant Frank Frassetto, Bob Carlton, CEO Jeremy Monnett.
Download High Resolution (300 dpi, 4.1mb JPEG file)
SUBSONEX PERSONAL JET HOME PAGE:
http://www.sonexaircraft.com/subsonex
SUBSONEX JSX-2 FLYING VIDEO:
http://youtu.be/lg64aN3SV6g
SUBSONEX JSX-2 TAXI VIDEO:
http://youtu.be/EtwD96IgGEw
PREVIOUS SUBSONEX PRESS RELEASE — EAB Option Announced for SubSonex Jet; Introductory Price Extended:
http://www.sonexaircraft.com/pr_020714
SUBSONEX EXPERIMENTAL EXHIBITION VS. EAB SUMMARY:
http://www.sonexaircraft.com/wp-content/uploads/2018/01/SubSonex_E-E_vs_EAB_Comparison.pdf
PBS Velká Bíteš TJ-100 TURBOJET ENGINE HOME PAGE:
http://www.pbsvb.com/turbojet-engine-tj-100
BRS AEROSPACE HOME PAGE:
http://brsparachutes.com
SUBSCRIBE TO THE SUBSONEX PROGRESS UPDATES MAILING LIST:
http://www.sonexaircraft.com/subscribe/#hornetsnest
SUBSCRIBE TO THE SONEX AND AEROCONVERSIONS PUBLIC RELATIONS RSS FEED & MAILING LIST: http://www.sonexaircraft.com/subscribe/#web_updates_list
PRESS CONTACT:
Mark Schaible
Sonex Aircraft, LLC
www.SonexAircraft.com
Phone: (920) 231-8297
Fax:     (920) 426-8333
E-mail: Use our Contact Form
###