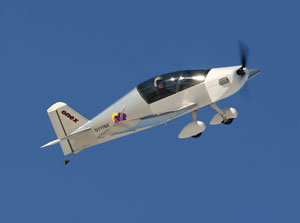 PRESS RELEASE:
FOR IMMEDIATE RELEASE
Sonex Aircraft, LLC Accepting Deposits for Onex Single-Place, Folding-Wing, Aerobatic Sport Aircraft
March 17, 2011, Oshkosh, WI
Sonex Aircraft, LLC is pleased to announce that refundable deposits are now being accepted to reserve kit production slots for the Onex single-place, folding-wing, aerobatic sport aircraft. Onex Airframe Kit deliveries are expected to begin by mid-year, 2011, with Tail Kit deliveries beginning much sooner. The Onex has been a highly anticipated Sport Pilot-eligible airplane kit, as evidenced by Onex mailing list membership growing to over 1,300 subscribers. Many prospective Onex builders have submitted requests to make a deposit and reserve their place in-line for Onex kits, and the opportunity to make those reservations has now arrived. On Tuesday, March 15, Onex mailing list subscribers were given advance notification of the availability of Onex Kit production slot reservations via a $500 deposit. The date and time of Onex deposit payment will be used to sequence customer orders. Customers can view full details, terms & conditions, and make their Onex Kit Reservation Deposits at http://www.SonexAircraft.com/onex
"Sonex Aircraft is excited to be taking deposits on this outstanding new aircraft," said Sonex Aircraft CEO and General Manager Jeremy Monnett. "Many hundreds of hours have been invested in the design, engineering, testing and flying of the Onex. We feel the Onex has the potential to cut the already low operating costs of the Sonex, Waiex, and Xenos even further. It represents what we consider to be the lowest operational cost of any sport pilot aircraft."
Estimated kit pricing is now available for the Onex, with a Complete Airframe Kit base price of USD $12,995. Onex kits will be offered in Complete Airframe Kits & Sub-Kits, and popular upgrades such as Pre-Assembled Main Wing Spars and Machined Angle Component Kits will be offered to reduce building time. Additionally, the Onex design has a smaller parts count than other Sonex Aircraft designs, while using more CNC machined parts to be included as standard items in the basic, non-upgraded, kit to further reduce build time. Estimated Sub-Kit pricing and kit upgrade pricing is published in further detail on the Sonex Aircraft web site.
"When comparing the pricing of the Onex to the Sonex, remember that the Onex has some new design features that make it easier for the builder, but they come with slightly higher costs," continued Monnett. "We continue to sharpen our pencil on pricing and recognize that every dollar we can shave off the price represents a larger potential market! We're excited to be delivering this aircraft to a world market where kit aircraft builders are increasingly aware of the incredible amount of fun you can have with an aircraft that costs a fraction of a new factory-built LSA."
The Onex flight test schedule continues to make rapid progress, and the Hornets' Nest Research and Development team at Sonex Aircraft, LLC is extremely pleased with the aircraft's performance in every aspect. "The preliminary flight test evaluation has been extremely positive," remarks Monnett. "A new flight video is available for download showing this activity. We're having a lot of fun putting time on this little fighter!"
More information about the Onex can be obtained by visiting the Hornets' Nest Research and Development web site. Basic design specifications, a development archive for the design, photographs, flight videos, and video archived webinars about the aircraft can all be found at: http://www.SonexAircraft.com/hornets_nest-onex. Those interested can also join the Hornets' Nest mailing list to receive automated notification via email of new Onex progress updates posted to the site. Sonex Aircraft, LLC encourages all Onex deposit customers and prospective builders to maintain a subscription on the Onex mailing list to stay abreast of the latest news and information as development of the aircraft continues.
Sonex Aircraft, LLC is a leader in the experimental kit aircraft industry, providing a series of Sport Pilot eligible kit aircraft and producing the AeroConversions line of products which include the AeroVee engine, AeroInjector and ancillary aviation products. Sonex Aircraft's Sonex, Waiex, and Onex sport planes, and the Xenos sport motorglider offer outstanding performance in an easy to build, easy to fly kit package that can be purchased and completed with full technical support at an unrivaled price. Sonex and AeroConversions product development is committed to providing simple, elegant and low-cost solutions for sport flying. Simply put, Sonex Aircraft and AeroConversions products provide the best performance per dollar. Check us out at www.SonexAircraft.com and www.AeroConversions.com
HIGH RESOLUTION IMAGES AVAILABLE FOR DOWNLOAD: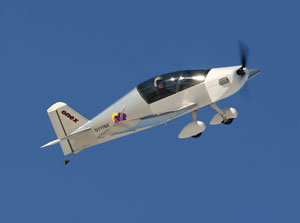 #1 Onex prototype N111NX in-flight.
Download High Resolution (300 dpi, 668kb JPEG file)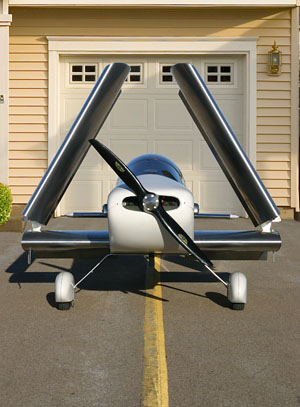 The Onex features a folding-wing designed to fit in
your garage and your trailer, with a price that will
fit in your wallet!
Download High Resolution (300 dpi, 2.5mb JPEG file)
ONEX KIT RESERVATION DEPOSIT DETAILS, TERMS & CONDITIONS:
http://www.sonexaircraft.com/onex
MORE INFORMATION ABOUT THE ONEX AVAILABLE AT:
http://www.sonexaircraft.com/hornets_nest-onex
NEW ONEX IN-COCKPIT FLIGHT VIDEO AVAILABLE AT:
https://youtu.be/BTcXTbKy-aY
SUBSCRIBE TO THE ONEX MAILING LIST:
http://www.sonexaircraft.com/subscribe/#hornetsnest
SUBSCRIBE TO THE SONEX AND AEROCONVERSIONS PUBLIC RELATIONS RSS FEED & MAILING LIST: http://www.sonexaircraft.com/subscribe/#web_updates_list
PRESS CONTACT:
Mark Schaible
Sonex Aircraft, LLC
www.SonexAircraft.com
Phone: (920) 231-8297
Fax:     (920) 426-8333
E-mail: Use our Contact Form
# # #