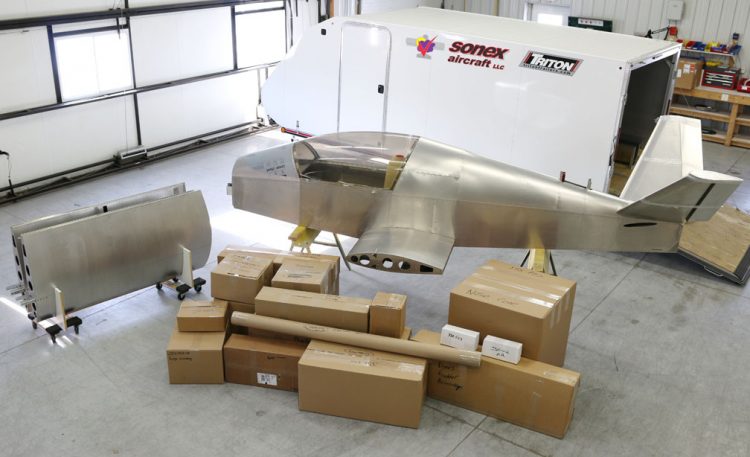 PRESS RELEASE:
FOR IMMEDIATE RELEASE
Sonex Aircraft Delivers First SubSonex Kit; Four New SubSonex Pilots Fly JSX-2; Bob Carlton Prepares SubSonex Air Show
February 16, 2015, Oshkosh, WI
Sonex Aircraft is excited to report the achievement of several major milestones in the SubSonex Personal Jet program during the month of February: The first SubSonex kit shipped from the Sonex factory; Four new SubSonex model JSX-2 pilots were minted in Moriarty, NM; and Bob Carlton received his Low-Level Statement of Aerobatic Competency (SAC) card for the SubSonex, in-preparation for the 2015 air show season!
First SubSonex Kit Delivered:
On Thursday, February 12th, the first SubSonex kit left Sonex Aircraft headquarters in Oshkosh, destined for customer Redge Greenberg of Durango, Colorado. The Ultra-Quick Build Kit was transported in the optionally available Triton TC 167 enclosed trailer by Sonex staff to Greenberg's home. This is the first in a series of seven kit deliveries included in the first kit production run, and marks the conclusion of an intense six month effort to bring JSX-2 from prototype aircraft to a fully-developed quick build kit product.
"I hold commercial glider, helicopter & single engine land licenses, accumulating 4500+ hours in numerous aircraft," writes Greenberg, "but I never got the chance to fly a jet. I first saw the prototype of the SubSonex at Oshkosh, and followed the development for over a year. When Sonex offered the jet as a kit, I was first in line. Like my RV8, the SubSonex is aerobatic, but the Sonex company also included a ballistic parachute for extra safety. I'm looking forward to finishing my SubSonex soon and adding jet capability to my aviation skills."
This week, two more kits will be delivered to customers in Ontario Canada and Pennsylvania, with kit deliveries to Missouri, Kentucky, and Oklahoma to follow next week. The seventh kit will be delivered to New South Wales, Australia via 20′ ocean container. Orders are now being accepted for the second run of SubSonex Quick Build Kit production, to commence in August, 2015.
SubSonex JSX-2 Pilot Population Increases by 400 Percent:
During the weekend of February 1st, four new pilots became qualified to fly SubSonex JSX-2. Sonex Aircraft President John Monnett and Sonex CEO Jeremy Monnett travelled to Moriarty, New Mexico to join Designated Pilot Examiner (DPE) Bob O'Haver and BonusJet flight instructor Billy Hill in making their first flights in SubSonex JSX-2 and subsequent qualifying flights for SubSonex permanent Letters of Authorization (LOA). Moriarty airport, home of SubSonex chief test pilot and air show performer Bob Carlton, is also the base of Carlton's BonusJet training program through his company, Desert Aerospace. SubSonex customers can obtain dual instruction in the jet-powered TST-14 Bonus sailplane, dubbed the "BonusJet," using the same PBS TJ-100 turbojet systems used in the SubSonex to contribute toward their SubSonex LOA's. DPE O'Haver is available to the BonusJet program for issuance of SubSonex temporary and permanent LOA's to qualifying pilots.
On Saturday, all four pilots made their first flights of SubSonex JSX-2, all four with diverse flying backgrounds from highly-experienced jet pilots O'Haver and Hill, to JSX-1 qualified pilot John Monnett, to piston Sonex pilot Jeremy Monnett, who recently completed the BonusJet training program. "Remarkably, all four flights looked nearly identical," commented Jeremy Monnett, "which is a testament to SubSonex JSX-2's outstanding flying qualities."
The weekend's flying concluded on Sunday, with permanent LOA checkrides for Bob O'Haver (administered by another visiting DPE), and checkrides for John and Jeremy Monnett, with a check ride for Billy Hill taking place later in the week. Being a single-place aircraft, SubSonex permanent LOA checkrides are administered by observation from the ground via radio contact from the DPE with a GoPro video camera mount on-board to document the flight and review the demonstrated maneuvers. Two new videos have been published by Sonex Aircraft, LLC: the first showing highlights from everyone's first flights ( http://youtu.be/g6YsCZlwYw0 ), the second a cockpit-narrated video of Bob O'Haver's permanent LOA check ride (http://youtu.be/ZAHc-3sXGio ). "This is EASY to fly," remarks Jeremy Monnett on-camera after his first flight, joking to Bob Carlton, "sorry to burst your ego, Bob!" as Carlton was no longer the only SubSonex JSX-2 qualified pilot by the end of the day.
Bob Carlton Prepares for 2015 Air Show Season in JSX-2:
Not to be out-done by Jeremy, Bob Carlton has been practicing a new air show routine in SubSonex JSX-2 for the 2015 season! Currently booked at EAA AirVenture Oshkosh 2015 and the 2015 Rocky Mountain Air Show with more show dates pending, Carlton has put-together a SubSonex show unparalleled by jet acts of the past including maneuvers such as tail slides (usually taboo in a jet), hammerheads and non-stop action with tight turns inside the typical piston aircraft air show box. Carlton has been practicing the show extensively over the past month, and obtained his Low-Level Statement of Aerobatic Competency (SAC) card for the SubSonex on February 12th in Phoenix, Arizona. "Thanks to Tim Weber for the use of his hangar, Bill Cornick for coming from California to do the evaluation and Bob Bishop for coaching me last weekend in Tucson," writes Bob. Two more videos were released today featuring Bob's air show practice in the SubSonex: one with outstanding multicam video showing Bob's practice in Moriarty ( http://youtu.be/At7M9wUi8FA ), the other showing exciting footage of his low-level practice in Tucson ( http://youtu.be/kt3eM-ETSs4 ).
SubSonex JSX-2 is a highly refined version of the original proof-of-concept aircraft, JSX-1. Like JSX-1, the new JSX-2 model is powered by the PBS TJ-100 engine, producing 247 lbs of thrust in an advanced, fully integrated package. The new jet features a larger, more comfortable cockpit, a larger instrument panel, fully retractable landing gear, a BRS full-aircraft recovery parachute, higher fuel capacity in a rotationally molded cross-linked polyethylene fuel cell, easily removable wings, and a more sculpted and aesthetically pleasing nose section. Sold only as a Quick Build Kit, the SubSonex includes almost everything required to fly with the exception of avionics and paint. Available options for the SubSonex Personal Jet include MGL iEFIS touchscreen avionics, a Mountain High oxygen system, Aveo PowerBurst LED position and strobe lighting, heated leather upholstery, cabin heat, and a Triton TC 167 enclosed trailer modified to transport the SubSonex.
Sonex Aircraft, LLC is a leader in the experimental kit aircraft industry, providing a series of sport aircraft along with the AeroConversions line of products, which include the AeroVee engine, AeroVee Turbo, AeroInjector and ancillary aviation products. Sonex Aircraft's Sonex, Waiex, and Onex sport planes, the Xenos sport motorglider, and the SubSonex Personal Jet, offer outstanding performance in an easy to build, easy to fly kit package that can be purchased and completed with full technical support at an unrivaled price. Sonex and AeroConversions continue to invest heavily in developing new products. Our team is committed to providing simple, elegant and low-cost solutions for sport flying. Simply put, Sonex Aircraft and AeroConversions products provide the Best Performance Per Dollar. Check us out at www.SonexAircraft.com and www.AeroConversions.com
HIGH RESOLUTION IMAGES AVAILABLE FOR DOWNLOAD: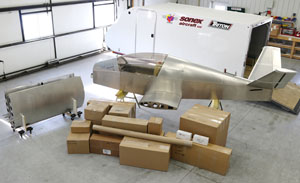 The first SubSonex Quick Build Kit was shipped Thursday, February 12, 2015. Kit shown here with assembled fuselage and wings with kit boxes, ready to load into the optional SubSonex trailer. Download High Resolution (300 dpi, 6.6mb JPEG file)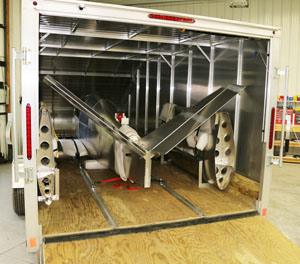 SubSonex Quick Build Kit loaded into it's trailer, ready for transport to the first SubSonex customer, Redge Greenberg of Durango, Colorado. Download High Resolution (300 dpi, 9mb JPEG file)


A panorama of the Sonex Aircraft R&D Shop/Quick Build Production Shop just prior to moving Redge Greenberg's kit to the warehouse for packing. This was the last time all seven first production run SubSonex Quick Build Kit airframes will be together in the same place. Download High Resolution (300 dpi, 7.1mb JPEG file)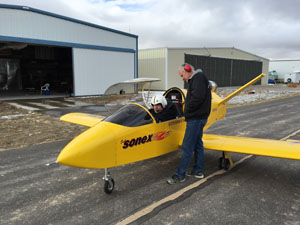 In-preparation for his first flight of the aircraft, John Monnett goes through the SubSonex JSX-2 checklist with test pilot and airshow performer Bob Carlton. Download High Resolution (300 dpi, 4.4mb JPEG file)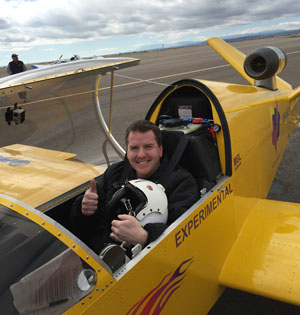 Jeremy Monnett gives the thumbs-up after one of his first flights in SubSonex JSX-2. Download High Resolution (300 dpi, 2.9mb JPEG file)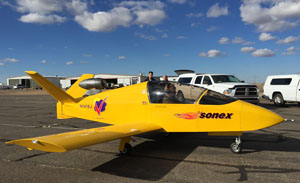 Designated Pilot Examiner Bob O'Haver prepares to taxi-out for his SubSonex Permanent LOA Checkride, administered from the ground by a visiting DPE. Download High Resolution (300 dpi, 3.7mb JPEG file)

VIDEO – New SubSonex JSX-2 Pilots, February, 2015: http://youtu.be/g6YsCZlwYw0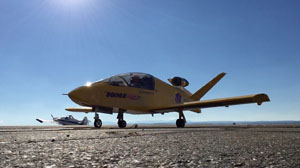 VIDEO – SubSonex LOA Check Ride: http://youtu.be/ZAHc-3sXGio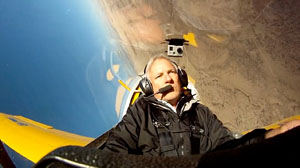 VIDEO – SubSonex Airshow Practice February 2015: http://youtu.be/At7M9wUi8FA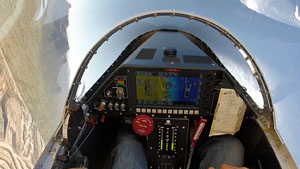 VIDEO – SubSonex Low-Level Show Practice 2015: http://youtu.be/kt3eM-ETSs4
SUBSONEX PERSONAL JET HOME PAGE:
http://www.sonexaircraft.com/subsonex
DESERT AEROSPACE (BONUSJET PBS TJ-100 SYSTEMS TRAINING):
http://www.desertaerospace.com
VERTIGO AIRSHOWS:
http://www.vertigoairshows.com
SUBSCRIBE TO THE SONEX AND AEROCONVERSIONS PUBLIC RELATIONS RSS FEED & MAILING LIST: http://www.sonexaircraft.com/subscribe/#web_updates_list
PRESS CONTACT:
Mark Schaible
Sonex Aircraft, LLC
www.SonexAircraft.com
Phone: (920) 231-8297
Fax:     (920) 426-8333
E-mail: Use our Contact Form
# # #