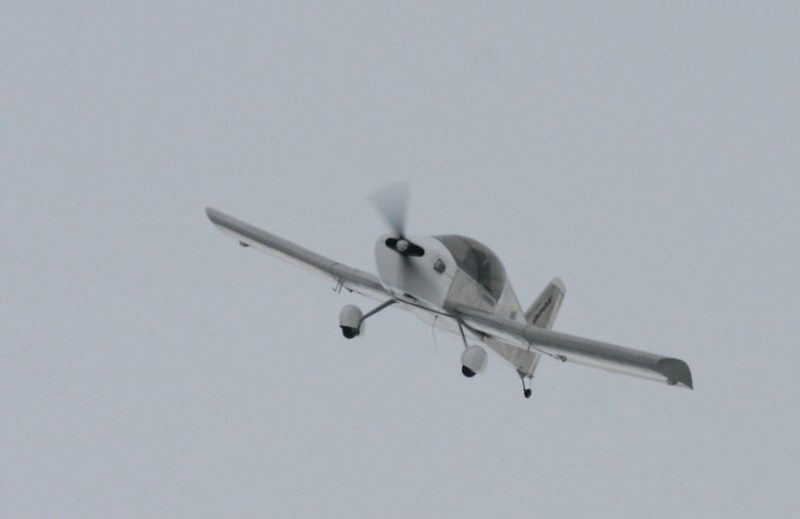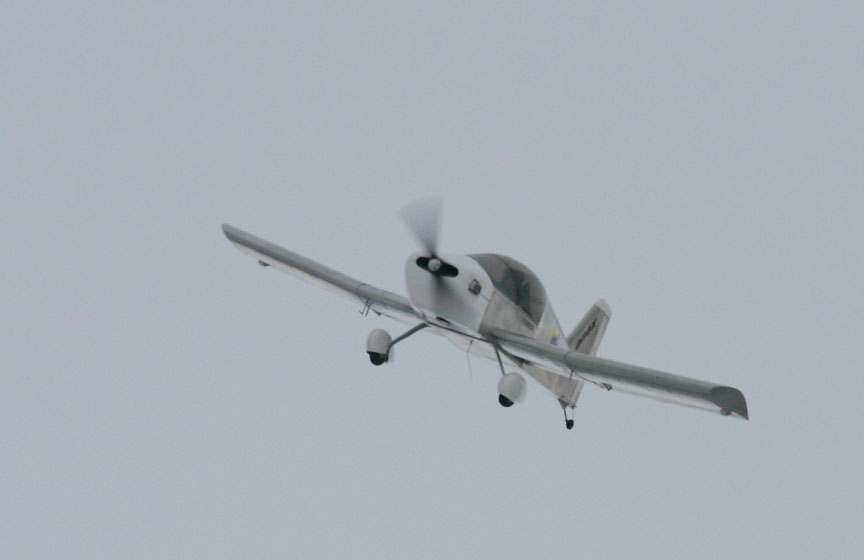 PRESS RELEASE:
FOR IMMEDIATE RELEASE
Onex Single-Place, Folding-Wing, Aerobatic
Sport Aircraft Makes First Flight
January 28, 2011, Oshkosh, WI
Sonex Aircraft, LLC is proud to announce that the number one prototype of the new Onex single-place, folding-wing kit aircraft made its first flight yesterday, January 27, 2011 at Wittman Regional Airport in Oshkosh, WI. Piloted by Sonex General Manager, CEO, and Onex designer Jeremy Monnett, the AeroVee-powered N111NX made an extensive flight orbiting the field. Monnett also made a low approach before landing, signifying his satisfaction with the initial handling and performance of the aircraft.
"The airplane is sweet," commented Jeremy Monnett upon landing. "It feels great!" In celebration of the achievement, the "Corsair-style" wing-fold system was used to stow the aircraft back into the Hornets' Nest R&D hangar. "First flight of the Onex marks the beginning of our flight test program for this innovative new design," continued Jeremy after the flight. "A design that virtually everyone in the community of current and prospective Sonex Aircraft builders is very excited about. This folding-wing, aerobatic, sport pilot aircraft offers enhanced freedom and affordability, continuing the Sonex tradition of lowering the cost barriers to flying."
Next steps in the development of the Onex include a complete and thorough flight testing program to explore the full performance envelope and flight characteristics of the aircraft, along with completion, first flight, and testing of Onex prototype number two: a tricycle gear version.
More information about the Onex can be obtained by watching an upcoming Onex webinar to be hosted by EAA and presented by Jeremy Monnett on February 2nd at 7:00pm central time. Additionally, more Onex progress updates will continue to be posted to the Hornets' Nest Research and Development web site as flight testing continues. Those interested can also join the Hornets' Nest mailing list to receive automated notification via email of new Onex progress updates posted to the site.
Sonex Aircraft, LLC is a leader in the experimental kit aircraft industry, providing a series of Sport Pilot eligible kit aircraft and producing the AeroConversions line of products which include the AeroVee engine, AeroInjector and ancillary aviation products. Sonex Aircraft's Sonex and Waiex sport planes, and the Xenos sport motorglider offer outstanding performance in an easy to build, easy to fly kit package that can be purchased and completed with full technical support at an unrivaled price. Sonex and AeroConversions product development is committed to providing simple, elegant and low-cost solutions for sport flying. Simply put, Sonex Aircraft and AeroConversions products provide the best performance per dollar. Check us out at www.SonexAircraft.com and www.AeroConversions.com
HIGH RESOLUTION IMAGES AVAILABLE FOR DOWNLOAD: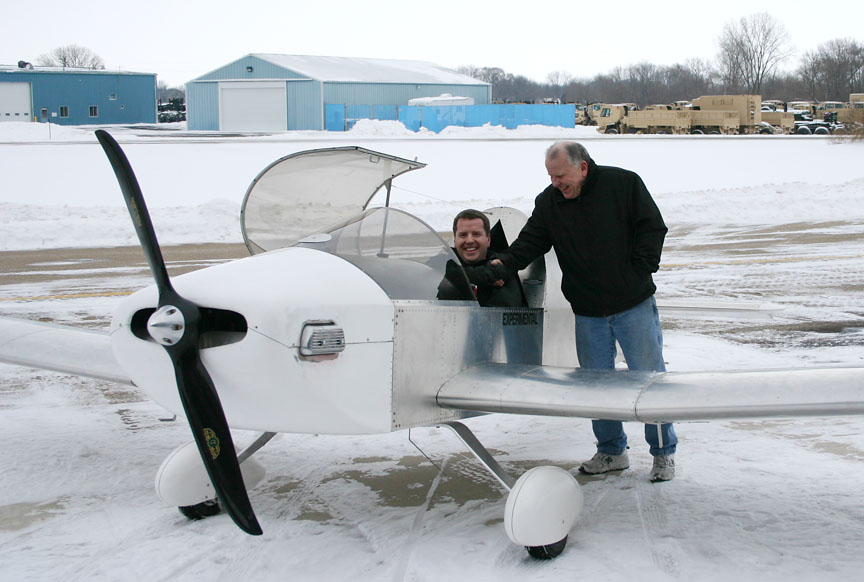 #1 Onex prototype N111NX fires-up its AeroVee
Engine prior to taking flight for the first time.
Download High Resolution (300 dpi, 3.7mb JPEG file)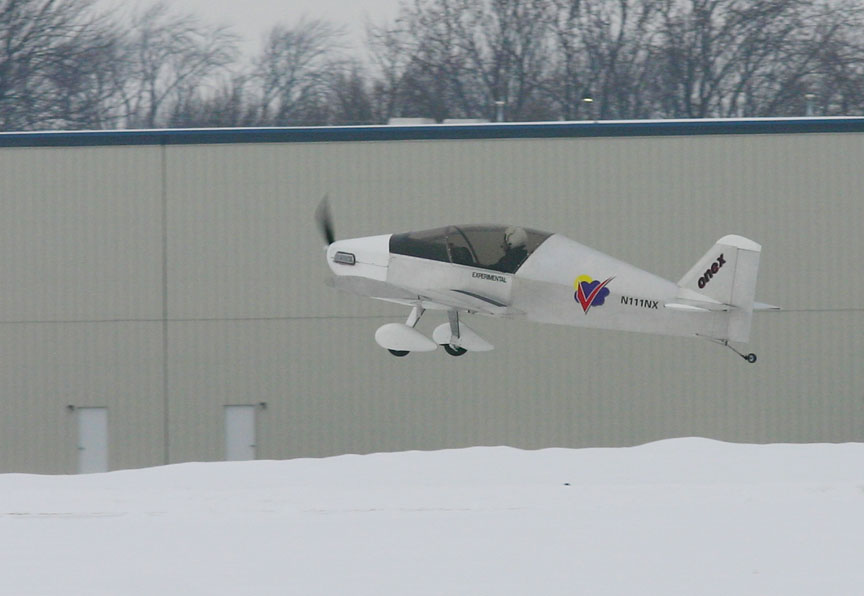 Onex 1NX takes off on Wittman Regional Airport's
runway 27 with Jeremy Monnett at the controls.
Download High Resolution (300 dpi, 2.5mb JPEG file)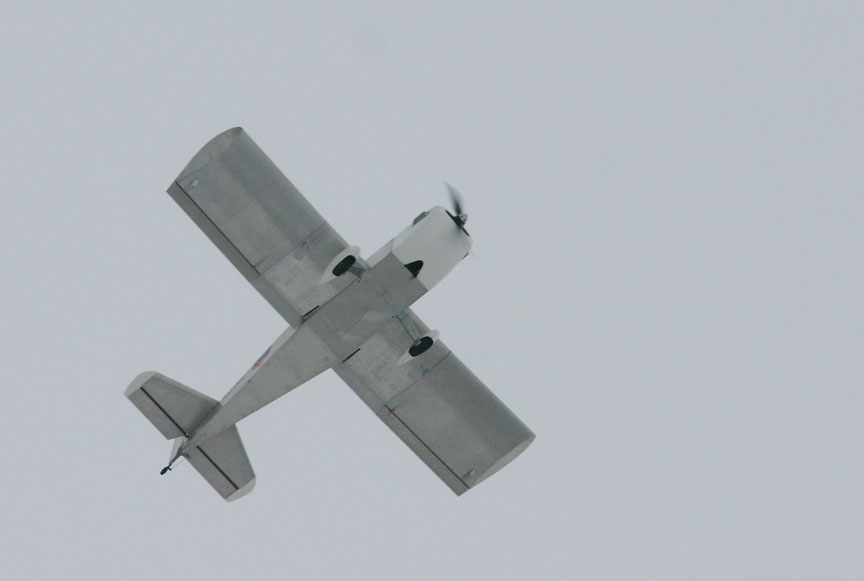 N111NX circles over the airport.
Download High Resolution (300 dpi, 2.4mb JPEG file)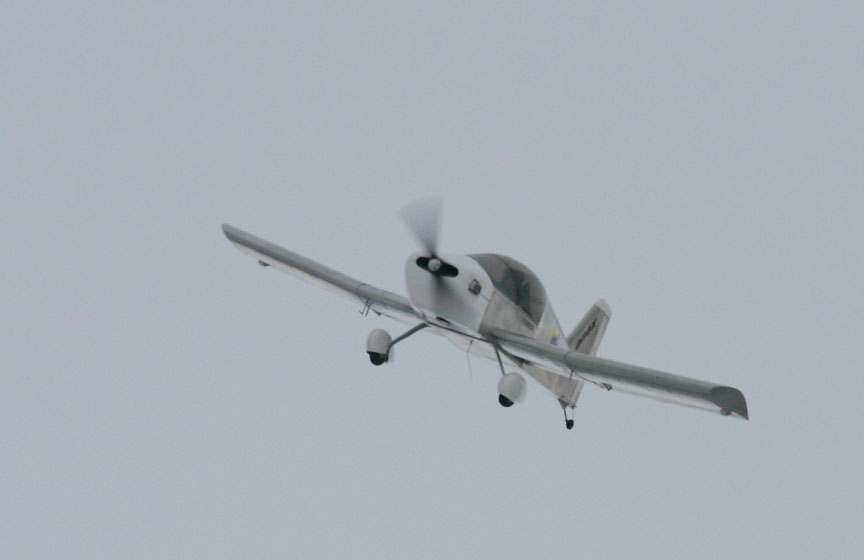 Jeremy gives the Hornets' Nest crew a low approach.
Download High Resolution (300 dpi, 2.3mb JPEG file)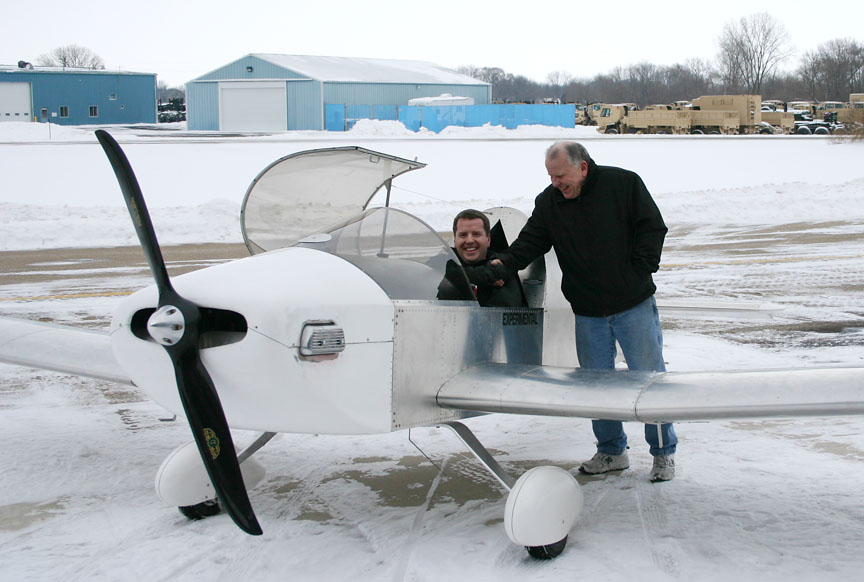 John Monnett (right) congratulations Jeremy Monnett
(left) on a successful first flight of the Onex.
Download High Resolution (300 dpi, 2.4mb JPEG file)
FOR MORE INFORMATION ABOUT THE ONEX: http://www.sonexaircraft.com/hornets_nest-onex
ATTEND THE FEBRUARY 2, 2011 ONEX WEBINAR:
https://www2.gotomeeting.com/register/580624907
SUBSCRIBE TO THE ONEX MAILING LIST:
http://www.sonexaircraft.com/subscribe/#hornetsnest
SUBSCRIBE TO THE SONEX AND AEROCONVERSIONS PUBLIC RELATIONS RSS FEED & MAILING LIST: http://www.sonexaircraft.com/subscribe/#web_updates_list
PRESS CONTACT:
Mark Schaible
Sonex Aircraft, LLC
www.SonexAircraft.com
Phone: (920) 231-8297
Fax:     (920) 426-8333
E-mail: Use our Contact Form
# # #