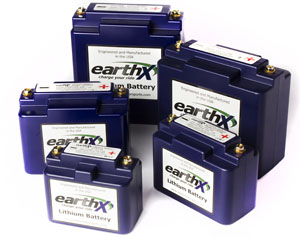 PRESS RELEASE:
FOR IMMEDIATE RELEASE
Sonex Aircraft, LLC Now a Dealer For EarthX Lithium Batteries!
January 18, 2016, Oshkosh, WI
EarthX Motorsports is proud to announce that a Sonex Aircraft has become a dealer for the complete line of EarthX products. Sonex has tested the EarthX aircraft battery line and approves their use in Sonex Aircraft designs.
EarthX currently has 3 battery models designed specifically for the aircraft market; the ETX680, ETX900 and the ETX1200. EarthX lithium batteries can significantly decrease the weight of your aircraft (11+ pounds instantly) and increase your cranking amps all with one product! All of these aircraft models have a fully integrated battery management system (BMS) that is also redundant and have an LED battery fault light indicator that can be used in your EFIS system or a simple LED light on your panel. EarthX aircraft batteries meet the requirements set forth by Sonex Aircraft, for all Sonex engine installations, and for the AeroConversions AeroVee line of engines for use on any airframe. The BMS provides over discharge protection, over charge protection, short circuit protection, and excessive cranking protection (temperature sensing) in addition to integrated cell balancing technology. Check it out at www.earthxmotorsports.com
EarthX Batteries and accessories can be ordered from the Sonex Web Store at: http://www.sonexaircraft.com/eshop
Sonex Aircraft, LLC is a leader in the experimental kit aircraft industry, providing a series of sport aircraft along with the AeroConversions line of products, which include the AeroVee engine, AeroVee Turbo, AeroInjector and ancillary aviation products. Sonex Aircraft's Sonex, Waiex, and Onex sport planes, the Xenos sport motorglider, and the SubSonex Personal Jet, offer outstanding performance in an easy to build, easy to fly kit package that can be purchased and completed with full technical support at an unrivaled price. Highly regarded as an engineering company, Sonex has diversified its offerings to include the Teros line of UAV aircraft for civil and defense missions in conjunction with Navmar Applied Sciences Corporation. Sonex and AeroConversions continue to invest heavily in developing new products. Our team is committed to providing simple, elegant and low-cost solutions for sport flying. Simply put, Sonex Aircraft and AeroConversions products provide the Best Performance Per Dollar. Check us out at www.SonexAircraft.com and www.AeroConversions.com
HIGH RESOLUTION IMAGES AVAILABLE FOR DOWNLOAD: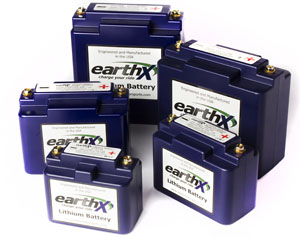 EarthX provides a large line of powerful, lightweight lithium batteries, including 3 models specifically designed for experimental aircraft. Download Full Resolution (300 dpi, 6.1mb JPEG file)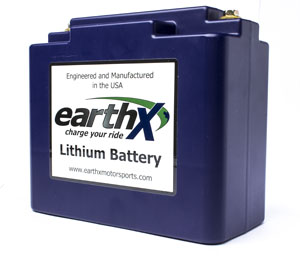 The EarthX ETX680 Aircraft Battery is fits in the same battery box as the Odyssey PC680 battery used in many Sonex Aircraft, yet it provides 160 more Peak Cranking Amps and weighs 11.3 lbs less! Download Full Resolution (300 dpi, 4.4mb JPEG file)
EARTHX MOTORSPORTS HOME PAGE: http://earthxmotorsports.com
EARTHX BATTERIES FOR EXPERIMENTAL AIRCRAFT: http://earthxmotorsports.com/product-category/experimental-aircraft
EARTHX BATTERIES ON THE SONEX WEB STORE: http://www.sonexaircraft.com/eshop/cart.php?target=category&category_id=401
SUBSCRIBE TO THE SONEX AND AEROCONVERSIONS PUBLIC RELATIONS RSS FEED & MAILING LIST: http://www.sonexaircraft.com/subscribe/#web_updates_list
PRESS CONTACT:
Mark Schaible
Sonex Aircraft, LLC
www.SonexAircraft.com
Phone: (920) 231-8297
Fax:     (920) 426-8333
E-mail: Use our Contact Form
# # #