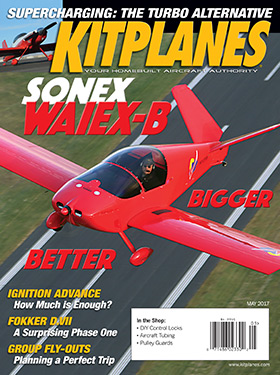 Kitplanes Magazine
"Waiex-B: B Stands for Bigger" by Paul Dye
Sonex Aircraft is extremely excited to announce that the Waiex-B is featured on the cover of Kitplanes Magazine's May, 2017 issue!
"Waiex-B: B Stands for Bigger" is written by Kitplanes Editor in Chief Paul Dye and covers all of improvements of both the Sonex-B and Waiex-B and includes a flight review of the Sonex factory prototype Waiex-B, "Red One."
The Sonex Aircraft B-Models offer many enhancements over the original legacy designs and are available in Sonex-B and Waiex-B configurations, along with the newly available Xenos-B Motorglider! B-Model features include:
More Room and Comfort
More Panel Space
More Fuel
More Engine Choices (engine mounts available for AeroVee/AeroVee Turbo, Jabiru 3300, UL Power and Rotax 912-series)
More Standard Features
Less Build Time!
Same Great Flight Characteristics!
The Waiex-B factory prototype aircraft can be seen along with the SubSonex Personal Jet at Sun 'n Fun 2017!
Learn More About the Sonex-B and Waiex-B