Please note that links on older archive pages are often not active. These pages serve purely as an informational archive. If you have trouble obtaining the information you need from this site, please email the webmaster with your questions.
---
Give Sonex Gift Certificates
The Holiday Season is upon us. Don't forget to order Sonex Gift Certificates for that special pilot in your life, or browse our Web Storeto find those last-minute gifts from our selection of merchandise or apparel.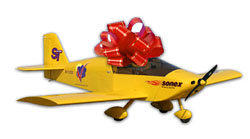 Sonex Holiday Shut-Down 
The Sonex Aircraft, LLC offices will be shut-down for the holidays and year-end inventory again this year. We will be closed from December 23 through January 2. Be sure to plan your purchases and technical support inquiries accordingly.