Please note that links on older archive pages are often not active. These pages serve purely as an informational archive. If you have trouble obtaining the information you need from this site, please email the webmaster with your questions.
---
Mark your calendars and start your flight planning for Oshkosh! The official Sonex Aircraft Homecoming Fly-In has been moved to June 9th, 2007. In order to avoid EAA AirVenture Fly-In traffic and better position the event as a pilgrimage for Sonex Builders and prospectives for years to come, the Homecoming will be held in June on an annual basis. Note that there will still be an annual pre-AirVenture Open House Fly-In, set for July 22nd this year.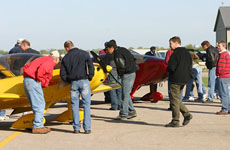 In planning your trip, you can download our Fly-In Traffic Instructions (1.4mb PDF File)* and view the Map to our Factory, and local accommodations listings. Overnight tie-down space will be available for Sonex Aircraft flying-in. We hope to see you here!