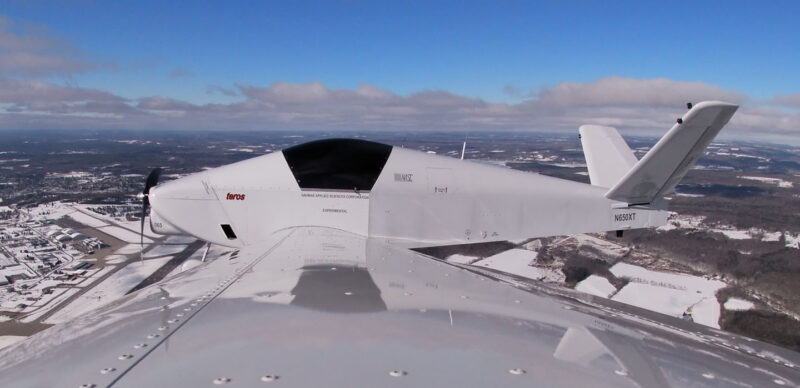 PRESS RELEASE
FOR IMMEDIATE RELEASE
TEROS UAV Achieves Advanced Flight Testing
Flight Tests Continue as TEROS Program Prepares for Customer Deliveries
February 7, 2020, Oshkosh, WI
Sonex Aerospace, LLC is excited to announce that Navmar Applied Sciences Corporation (NASC) has successfully begun the flight test program for the NASC TEROS Group 4/5 Unmanned Aerial Vehicle technology demonstrator. The flight took place at the NASC Unmanned Aerial Systems Flight Operations and Training Center at the Griffiss International Airport in Rome, NY on January 29, 2020. The TEROS UAV flew for approximately 1.5 hours in both manual and autonomous flight profiles successfully testing the aircraft systems and avionics suite.
Based-upon the popular Sonex Aircraft Xenos Motorglider, its rugged, aerobatic-capable structure enables the NASC TEROS to provide a flexible plug and play payload capability for multiple payloads up to 600 pounds at high altitudes for extended flight durations. The NASC TEROS was designed in collaboration with Sonex Aerospace, LLC and is a Medium Altitude Long Endurance Unmanned Aircraft Vehicle (UAV) capable of operating within the Group 4 and Group 5 UAV classifications. TEROS was designed and built to FAA Part 23 (structure and systems) and MIL F 83691 (flight characteristics) standards.
"Today's successful flight is a huge step toward reaching our ultimate goal of TEROS approval for integration into the National Airspace," said Richard Leverich, NASC Senior Program Engineer.
"The successful flight testing of TEROS is a major milestone for the Sonex companies," remarked Sonex Aerospace CEO Mark Schaible. "This benchmark has major significance with regard to the future of Sonex Aerospace and Sonex Aircraft LLC, promising growth opportunities to take Sonex to the next level of business operations, while continuing to serve our traditional sport aircraft market."
The TEROS is undergoing preparation for follow-on envelope expansion flight testing. NASC and Sonex will continue to consider improvements to be integrated into the next production update.
Utility company Florida Power & Light recently featured the TEROS during their regional Super Bowl television commercial. The 1-minute commercial aired during halftime on Super Bowl Sunday and included a brief computer-generated clip of TEROS. The commercial can be found at:
https://youtu.be/La0gef3LAzs
Via a Business Collaboration Agreement with Navmar Applied Sciences Corp. (NASC), Sonex Aerospace is supporting development of the Teros Group 4/5 UAS. With roots in the experimental aircraft industry, the Oshkosh, WI based company is heavily invested in R&D and has been designing, building, testing, selling and supporting manned aircraft systems since the early 1970's With many thousands of worldwide fleet hours to its credit, Sonex aircraft are light weight, strong and cost-efficient with incredible performance and economy. Learn more about Sonex Aerospace at www.SonexAerospace.com
MEDIA IMAGES AVAILABLE FOR DOWNLOAD:
SONEX AEROSPACE TEROS HOME PAGE: http://www.sonexaerospace.com/teros.html
NAVMAR APPLIED SCIENCES CORPORATION TEROS HOME PAGE: https://www.nasc.com/nasc-teros/
SUBSCRIBE TO THE SONEX AND AEROCONVERSIONS PUBLIC RELATIONS RSS FEED & MAILING LIST: http://sonexaircraft.com/subscribe/#web_updates_list
SONEX AEROSPACE PRESS CONTACT:
Mark Schaible
Sonex Aerospace, LLC
www.SonexAerospace.com
Phone: (920) 230-2485
E-mail: mark@sonexaerospace.com
NASC BUSINESS DEVELOPMENT CONTACT:
Brett Borman
Navmar Applied Sciences Corp.
www.NASC.com
Phone: (215) 675-4949 ext. 221
E-mail: Busdev@nasc.com
# # #