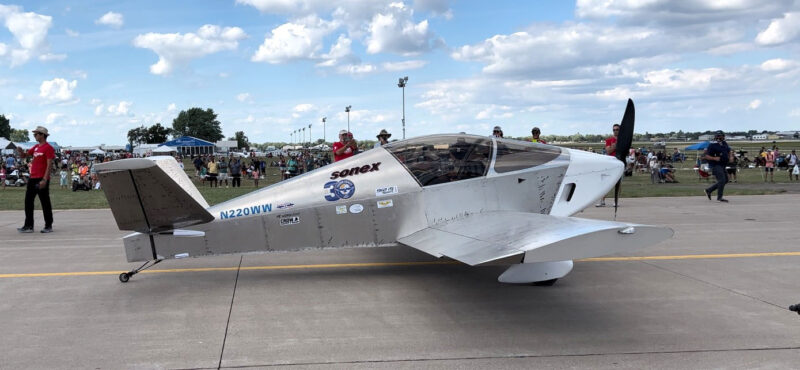 EAA AirVenture Oshkosh 2022 broke all kinds of records for EAA, making it the biggest event ever, and it was the biggest Oshkosh ever for Sonex in several ways! Keep scrolling, this is probably the biggest Oshkosh web post ever, as-well!
One Week Wonder
The show started and ended in a big way for Sonex with the official kickoff of the 2022 One Week Wonder by EAA's Jack Pelton. Throughout the week, over 80 build volunteers and ambassadors plus thousands of AirVenture attendees with their individual signed rivet contributions helped to ensure a successful completion of the Waiex-B for this year's One Week Wonder. The aircraft taxied in-front of the AirVenture crowd at the end of Sunday's air show, meeting the week's incredibly ambitous goals. See the full One Week Wonder photo gallery below along with each day's video coverage by the Experimental Aircraft Channel on YouTube. The One Week Wonder served as an inspiration to AirVenture attendees, volunteers and Sonex staff alike, showing what a dedicated group of like-minded aviation enthusiasts can achieve together and showing that building a homebuilt aircraft is within anybody's reach!
Show Orders and Lead-Times
The show was also a giant year for Sonex kit orders, exceeding all expectations as excitement and demand for our products continue to grow! Lead-Times are still very good compared to the rest of the homebuilt industry, however, so if you didn't get a chance to order at the show, place your order now! Complete Airframe Kits and Sub-Kits currently have an approximate 16 week lead-time and Quick Build Kits are currently booking-out approximately 9 months. Cost pressures keep increasing, however, so be prepared for price increases to come soon. See Our Kit Options and Order Today!
As the factory aircraft and the One Week Wonder progress through flight testing together, Sonex will be refining and preparing custom parts for the installation along with a Firewall-Forward Installation Guide for release later this year. Accessories will include the custom Sonex/Toucan Exhaust System, an AeroConversions/Rotax Prop Hub Spool Extension, Radiator Mounts and Ducts with Custom Radiators, Sonex/Rotax Oil Tank Mounts and more! This new engine support will combine with our existing engine support offerings to further increase the popularity of Sonex designs!
The High Wing will also give Sonex the opportunity to completely round-out its engine support package offerings with the first factory installation of a UL Power engine with the UL350iS! Like Rotax engines, Sonex has been making engine mounts available for UL Power engines for years, and with the High Wing project we will be developing specific support materials and instructions for the installations in our aircraft!
One Week Wonder Daily Video Coverage
Day 1
Day 2
Day 3
Day 4
Day 5
Day 6
Day 7
One Week Wonder Photo Gallery