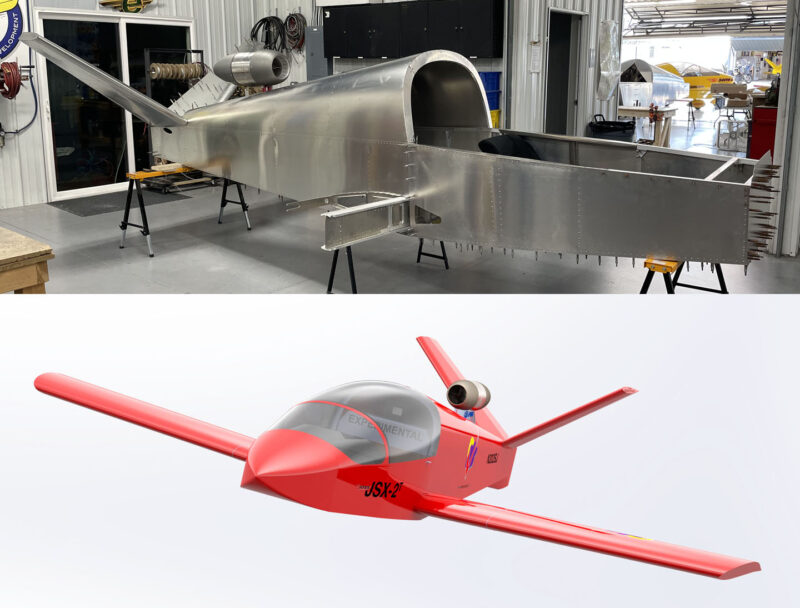 Beginning July 1, 2022 Sonex will be accepting Kit Reservation Deposits for SubSonex JSX-2T. These pre-orders will allow customers to get in-line for the first kits, anticipated to begin production in the 2nd Quarter of 2023 with shipments estimated to begin during the Fall/Winter of 2023. See full SubSonex JSX-2T Deposit Terms & Conditions for all details.
JSX-2T is configured with side-by-side seating for optimum flexibility in CG/loading and offers an ideal training environment for its crew. The two-place jet will utilize the same proven PBS TJ-100 turbojet engine system, and with a wing span of 21.8 feet JSX-2T will have similar wing loading and handling to the single-place JSX-2.
JSX-2T is destined to be an outstanding choice for those demanding an affordable 2-place recreational personal jet!
Next Steps:
Completion of the prototype will wrap-up after AirVenture and flight testing is scheduled to begin this Fall. At the completion of the flight testing process, JSX-2T Kit Reservation Deposit customers will receive notice to confirm their official kit orders and kit production will begin!
Landing Gear System:
The retractable gear system for JSX-2T will be different than that used in the single-place jet. Instead of using pneumatic cylinders, Sonex is using electric linear actuators for each gear leg. Use of electric linear actuators will reduce weight by eliminating the need for air pumps and accululator tank, and elminates the need for a gear up-lock system.
Due to the larger size and increased max. gross weight of the JSX-2T, the diameter of the wheels will be enlarged, which allows larger, more powerful brakes to be used. The system will use a scaled-up version of the main gear trucks/brake units currently featured in SubSonex JSX-2. The gear legs are also lengthened to give the aircraft more ground clearance — an aesthetic consideration making the aircraft look "right" in its scaled-up form that will also prevent the jet's larger wing area from increasing float in ground-effect.
Control System:
Like the Sonex, Waiex and Xenos B-Models, SubSonex JSX-2T will utilize a single center-mounted control stick to minimize weight and maximize useful load and performance. Routing and geometry of all control system components have been designed, structural requirements for the control system components have been analyzed, and prototype control system parts are in-process.
Fuel System:
The aircraft will have 10 additional gallons of useable fuel capacity vs. the single-place jet, offering a moderate increase in range and endurance while still keeping the aircraft within its intended max. gross weight and an acceptable CG range. Like the single-place JSX-2, the JSX-2T fuel cell will be removable for maintenance access to other components in the fuselage.
CG and YES: Baggage!
With a max gross weight of 1500 lbs and and estimated empty weight of 620 lbs, the JSX-2T will have great flexibility in CG and loading options. With the side-by-side seating configuration, the 50 gallon fuel cell is positioned on the CG and is wide, allowing a lower total fuel tank height which offers extra space above the fuel tank and on the CG for various combinations baggage, BRS system, smoke oil or auxiliary fuel. SubSonex JSX-2T will also offer a first for Sonex aircraft: dual aerobatics with an aerobatic max gross weight of 1100 lbs.
Fuselage and Cockpit:
Design of the fuselage is driven primarily by the design and interface of other major aircraft components including the wing, tail, fuel system, engine mounting etc. The cockpit has the largest impact upon the design of the fuselage and much work has been focused on the cockpit design of JSX-2T to accommodate two occupants comfortably, including tall pilots, with access for both pilots to controls. Several features of the JSX-2T cockpit have been designed to make this possible:
Curved Fuselage Sides: The forward fuselage/cockpit side walls of JSX-2T are curved. Like "bubble doors" on a high-wing aircraft, these curved cockpit side walls give pilots more room at the elbows and hips. This amounts to a 2″ total increase in cockpit width in these areas vs. our earlier aircraft designs with straight longerons and fuselage side walls, however, there is a structural requirement for a straight section at the upper longerons making shoulder room comparable to Sonex aircraft B-Models.
New Canopy and Turtledeck Shape: The traditional arc of typical Sonex Aircraft turtledeck formers and canopies has been changed for JSX-2T, reducing the total height of the apex of that arc while making the arc taller at either side of the aircraft centerline. This gives pilots an increase in head room while minimizing the total height of the fuselage.
Ample Leg Room: Like the single-place SubSonex and the Onex, JSX-2T does not have the constraints of an angled firewall or forward bulkhead for landing gear mount provisions. This gives the cockpit ample leg room and the ability to vary the distance of the rudder pedals from the seat.
In SolidWorks modeling of the cockpit, we are able to fit a 95th percentile 6′ 3″ tall person of even proportions into the aircraft. Fit will vary from one individual to the next, however, as ratio of inseam vs. torso length varies, along with weight, and each individual's perception of a comfortable fit in an aircraft. Like any aircraft, you'll have to try it on for size, however, pilots of more average height and weight can count on being able to fit in the JSX-2T comfortably.