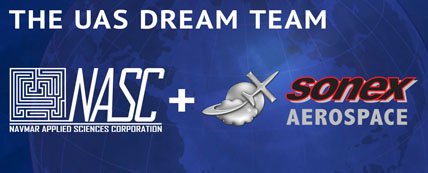 Sonex Aircraft, LLC is excited to unveil its newest business unit at the AUVSI XPONENTIAL 2017 convention in Dallas, TX this week: Sonex Aerospace, LLC. Sonex Aerospace is a design, development and manufacturing firm focused on the UAS marketplace and the exploration of other new market opportunities in aerospace. Via a Business Collaboration Agreement with Navmar Applied Sciences Corp. (NASC), Sonex Aerospace is currently developing the Teros Group 4 UAS, the Tigershark Block 4, and the SubSonex Twinjet UAS. The Teros prototype is being displayed at XPONENTIAL 2017, while renderings of the Tigershark Block 4 and SubSonex TwinJet UAS are being displayed in the NASC exhibit booth.
AUVSI XPONENTIAL 2017 is the largest trade show for the unmanned systems and robotics industry. More than 7,000 industry leaders and professionals from more than 55 countries are expected to attend XPONENTIAL at the Kay Bailey Hutchison Convention Center in Dallas from May 8 to 11.
Read Today's Official Press Release!