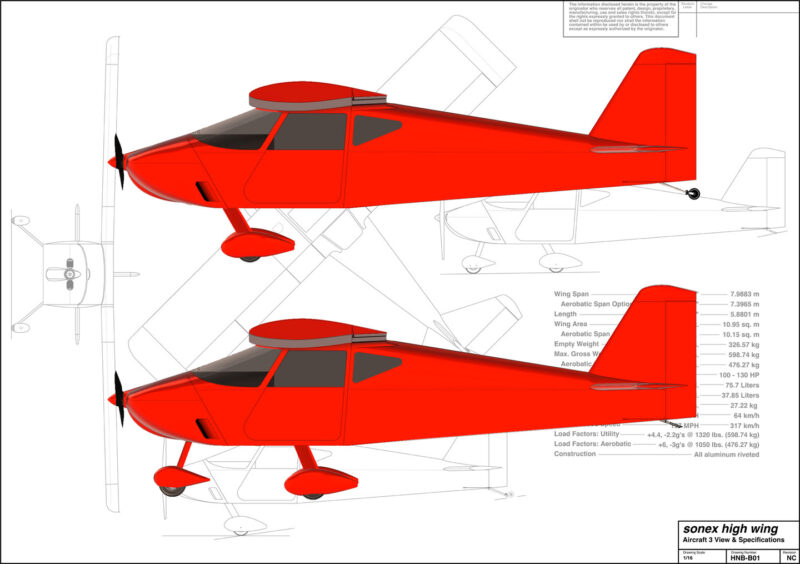 Sonex Aircraft is proud to present its newest kit aircraft design: the
Sonex Aircraft High Wings.
Designed for expanded utility, ease of pilot access and to appeal to the high wing enthusiast, the Sonex High Wing offers the legendary Sonex performance and handling in a new configuration. While many kit manufacturers today offer high wing aircraft with a backcountry mission in-mind, we are making our cantilevered wing aircraft in the Sonex tradition of sleek, efficient aerobatic and cross-country performance – The Best Performance Per Dollar!
Sonex High Wing FAQ's:
Are you offering both Conventional Tail and Y-Tail model options?
Yes! With the Waiex-B leading Sonex Aircraft sales, it's clear that people love the looks and great handling of our Y-Tail designs, so we will offer both options for our high wing offerings.
Can I choose between Taildragger vs. Tri-Gear for Sonex Aircraft high wing aircraft?
Yes! We will have both gear configurations available with both tail configurations: 4 model options available between tail and gear configuration options.
When will the Sonex High Wing be available?
Our target is to display the Sonex High Wing at EAA AirVenture Oshkosh in 2023 and begin taking orders at that time.
Will the Sonex Aircraft High Wing be a Backcountry Airplane?
No. just like the current fleet of Sonex Aircraft, the Sonex High Wing will be capable of handling short grass strips exceptionally well, but winning a STOL competition or flying off a gravel bar is not the intended mission of the aircraft – so many other aircraft already fill that bill quite well. Instead, we wanted to bring expanded utility and ease of pilot access to the existing Sonex mission of fun everyday local flying, aerobatics and fuel-efficient & fast long cross-countries to the high wing world. All that being said, if you ever wanted to put floats, skis or big tires on a Sonex, have at it with our new high wing!
What is the seating configuration?
Just like the Sonex, Waiex, Xenos and two-place SubSonex JSX-2T, the Sonex High Wing will have two seats, side-by-side.
Will pilots have more room in the Sonex High Wing?
Yes! Both the pilot seating and the aircraft's wing is moved aft approximately 2.5 inches and the Sonex High Wing will feature doors that offer a 44 inch cockpit width. Additionally, the shape of the high wing cabin configuration allows almost unlimited head room.
Can the Sonex High Wing carry more fuel?
Yes. The Sonex High Wing will feature the standard Sonex Aircraft B-Model 20 gallon rotationally-molded fuel cell along with an option for 10 gallons of auxiliary fuel in the inboard wings, which can be easily transferred to the main tank via gravity feed.
Will the Sonex High Wing have a higher gross weight?
Yes, the aircraft will have a max gross weight with Utility Category limit load factors of 1320 lbs. with an estimated empty weight of 720 lbs. to accommodate larger pilots and more fuel. The baggage capacity of the aircraft is also increased to 60 lbs.
Will it be aerobatic?
Yes, when flown solo with a gross weight at or under 1050 lbs., the Sonex High Wing will have +6 and -3G limit load factors. Like the Xenos motorglider, the Sonex High Wing will have easily interchangeable aerobatic wing tips to reduce span with the effect of increasing roll rate and maximizing top speeds for local aerobatic fun flying.
Will it be Sport Pilot Eligible?
Yes. The Sonex High Wing is designed to check all the boxes for Sport Pilot while offering the maximum useful load, aerobatic capability and cruise speeds. See our Sport Pilot web page for more information about Sport Pilot aircraft performance requirements.
Can the Sonex High Wing be transported on a trailer?
Yes. The Sonex High Wing features removeable outboard wing panels, similar to the SubSonex, with a fixed inboard wing section. Max width of the aircraft with outboard wings removed is 89-5/8" allowing the high wing Quick Build Kit and completed aircraft to fit in enclosed trailers and ocean freight shipping containers.
What engine will the aircraft be powered by?
The Sonex High Wing is designed for engines 100 hp or greater with a maximum firewall-forward installation weight of 200 lbs. Like current B-Model aircraft, the Sonex High Wing can use AeroVee, Jabiru, UL Power and Rotax engines.
With the introduction of the Sonex High Wing, will the 2-place SubSonex JSX-2T still be offered?
Yes! The 2-place jet is still going to be offered with a debut scheduled for AirVenture 2022. The Sonex High Wing will be the next new aircraft offering from Sonex Aircraft scheduled to debut at AirVenture 2023.
Can I get started now with a Sonex or Waiex Tail Kit?No. Although it looks very similar, Sonex Aircraft High Wings will have different tails: slightly larger due to the increased wing span.
How can I stay up to-date with Sonex High-Wing developments?
You can join our Sonex Hornets' Nest Research and Development email list segment for the Sonex High Wing to be automatically notified of project updates. Also stay tuned for updates to our web site home page, social media and other outlets such as media coverage and webinar presentations.
Sonex High Wing
*specifications subject to change
Waiex High Wing
*specifications subject to change
Friday Video Teaser:
Full Interview with Experimental Aircraft Channel:
Subscribe to Stay Tuned for More High Wing Information!