Please note that links on older archive pages are often not active. These pages serve purely as an informational archive. If you have trouble obtaining the information you need from this site, please email the webmaster with your questions.
---
The Fourth Annual Sonex Aircraft, LLC Homecoming Fly-In was a great success as we hosted approximately 100 visitors throughout the day and seven customer-built Sonex aircraft were on display along with six factory prototypes. Special thanks to Gus Schlegel, Roger Nienberg, Ken Irwin an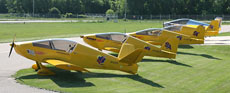 d Barry Weinzirl for flying-in with their Sonex aircraft! Thanks also to Wayne Daniels, Drew Waterworth and Kerry Fores for displaying their Wittman Airport-based Sonex aircraft! The Oshkosh chapter of Women in Aviation sold a lunch of Wisconsin brats at the event, providing a profitable fund raiser for their organization.