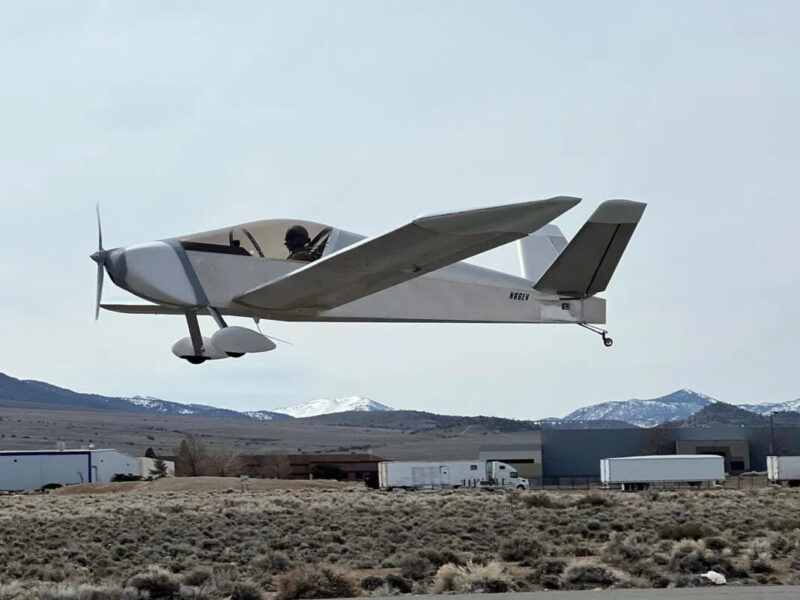 Congratulations to Paul Dye and Louise Hose of Kitplanes Magazine who flew their eXenos (S/N X0061) with Zaero Elecric Propulsion for the first time today! The aircraft uses the Zaero Electric Propulsion system pioneered by Gabriel DeVault and supported by both Sonex and DeVault. Paul made two flights today from his home airpark in Dayton, Nevada.
Paul writes:
To quote Howard Hughes in the movie The Rocketeer… "The son of a b**** will fly!"

The stars finally aligned with the weather (and schedules) in western Nevada on the morning of April 8th, and the Dye/Hose eXenos took to the air for its first and second flights from Dayton Valley Airpark. Paul Dye flew both flights using the EAA Test Card #2 (suitably modified for an electric powerplant) and found the airplane to fly fine, with only a slightly heavy left wing and a stall speed right on the book value of 38 knots. The electric power system devised by Gabe DeVault worked flawlessly and Paul was able to manage temperatures of the motor, controller and battery to complete all the flight test objectives on the card. While the motor warms up quickly during takeoff and initial climb, the temperature are easily managed while maintaining a respectable positive rate of climb to pattern altitude.
You can read more about the Dye/Hose eXenos first flight on the Kitplanes Magazine web site!
Congratulations Paul and Louise, Gold Wings are on the way!
Learn More About the Xenos Motorglider!
Learn More about the Xenos Zaero Electric Propulsion Installation!
View the Latest Sonex Aircraft Completions