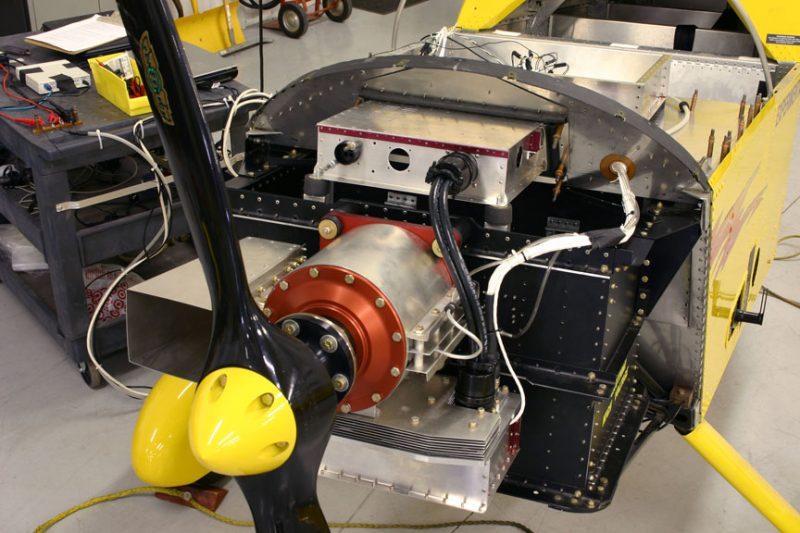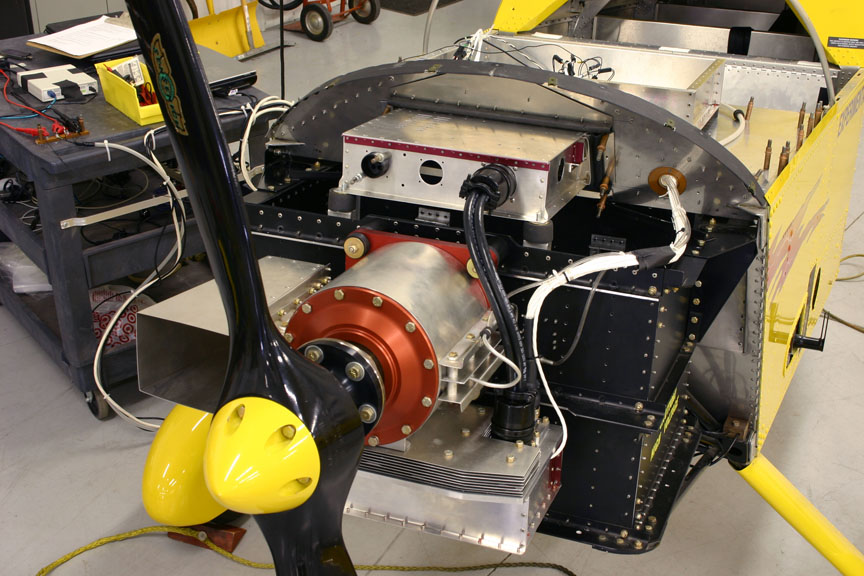 The Sonex Aircraft, LLC E-Flight Initiative proof-of-concept electric-powered Waiex aircraft will be on display in the Aviation Learning Center during EAA AirVenture Oshkosh 2009, located on the flight line, East of the AirVenture Forums Plaza. There will be an informational update regarding the progress of E-Flight given during the "Sonex and AeroConversions E-Flight Alternative Power Research" forum held on Wednesday, July 29 at 10:00 am in EAA Forum Pavilion #11. Additionally, E-Flight design team members will be demonstrating partial power runs of the E-Flight electric Waiex in the Aviation Learning Center several times throughout the week.
Since the last public update on the Sonex E-Flight electric project on December 12, 2008, the development team has continued to make progress on our goal of electric flight in our proof of concept Waiex airframe. We have not provided an update on the project since late last year because much of the information would not generate much public fascination, and much of the information is proprietary in nature. The progress made isn't the kind of headline-grabbing development, but each step has been crucial to the refinement of the E-Flight powerplant and flight system. Many significant proprietary developments have been made to system components in the less than 3 years we've been working on this ambitious project. The team has learned a lot since our last public update and this release is meant to communicate some of this progress.
As the E-Flight team recognized from the start, the task of developing a brand-new electric power system from the ground up is extremely difficult. There are many technical obstacles that the team has had to overcome along the way, learning valuable lessons about the technology at each step. The E-Flight team is in a unique position of owning the motor design, controller, battery management system, and all monitoring instrumentation. No outside vendors or contractors have been used to develop the E-Flight power system. This puts Sonex Aircraft, LLC and future E-Flight customers in an excellent position once the system is brought to market.
The controller design is now complete, which is a huge item in our development process. This controller is unique in many respects, but the main technological break-thru involves the use of the E-Flight Brushless DC Motor's own back-EMF signal for commutation. The team was also able to conduct a full power run operating the motor with the full ground-test stack of lead acid batteries. The E-Flight motor reached 3040 rpm and 54kW power output. All of our motor/controller runs to-date have been with either the use of a 300V power supply or a large lead-acid battery bank, and we are now working on integration of the lithium polymer packs intended for use in the E-Flight Waiex flight test vehicle. The design team suffered a fairly major setback when our motor overheated during a ground run with the test club propeller. We found that insufficient cooling air and a gap between the winding and motor barrel were the reasons for this failure. The motor core and cooling system have both been redesigned to address these issues and these changes have already been integrated and run.
The E-Flight team is currently working on transitioning the system from the ground-test rig to the aircraft., and are in the midst of systems integration including but not limited to wiring harnesses connecting the power controller, head control unit, motor, battery control unit, and batteries.
The following is a historical timeline of the E-Flight electric research and development project's milestones and challenges.
---
1992- Flash Flight Proposal from team member Pete Buck's senior design project using Moni airframe.
8.25.06 and 8.26.06- Meeting with Bob Boucher from Astroflight. Approach for first flight discussed. Bob Boucher would look at scaling up his current motor designs and providing the motor to Sonex. A search would also be undertaken for motor control suppliers. In order to expedite development, Sonex plans to do a proof of concept using a factory Waiex Aircraft.
3.14.07- The E-Flight team designs a scaled up motor based on input from Astroflight. Machined components for motor core are ordered. Battery and controllers researched.
3.15.07- Correspondence begins with new team member Andrew Pearce on the project and he decides to build a proof-of-concept controller.
5.11.07- First motor components arrive at Sonex.
5.28.07- First controller board version arrives and is assembled and tested.
7.27.07- E-Flight project is unveiled to the public at EAA AirVenture Oshkosh 2007 with a motor mock-up, small controller box mock-up and battery containment box system planned for ThunderPower Li-Po packs.
12.1.07- Meeting of the team in Oshkosh. Assembled version 1.0 of the 55kW E-Flight Electric Motor. Ran the E-Flight motor for the first time! Discussed instrument/engine power system, instrumentation/flight, batteries and battery box packaging system. Set schedule targeted for flight by June of 2008.
1.31.08- Running on Hall Effect ring version 1.0.
4.5-4.6.08- Meeting in Oshkosh. First high-power run on batteries. Blew Qty 3 IGBT's with large voltage spikes. Learned how to use PFC Charger. Still running on Hall Effect ring.
5.13.08- More high power tests on system using Lead Acid Batteries. Li-Po Batteries arrive. New Trigger Assembly-Still running on Hall Effect Sensor, Resistors and Snubbers Installed on test set-up.
6.6.08- Running on current sensor ring and struggling with achieving proper timing with this Hall Effect system. Ran a series of timing tests on Hall Effect. More electrical components damaged during the second timing test.
7.7.08- Contracted with local motor winding firm to produce E-Flight Motor winding 2.0. Class H materials used throughout.
7.27.2008- Initial low side sensorless BEMF proof of concept tested successfully.
10.27.2008- Successful medium voltage tests of low multimode side/high side BEMF sensorless controller.
12.2.08- Adjusted gate drive to optimize waveform and ran with test club. Achieved 22V at max RPM of 2204.
2.15.2009- Successful test: high voltage low side commutation issues impacting start and running below 20% PWM solved.
3.23.09- Burned-up motor core with 4 minute run. Reached 3040 rpm and 54 kW power output. Motor overheated.
6.2.09- New winding core shrink-fit into barrel version 3. New process created to overcome this challenge.
6.11.09- New integrated motor package complete.
6.19.09- Motor assembly and controller box mounted to airframe and tested with power supply.
6.26.09- Battery mount procedure for Li-Po stack continued. Wiring and clamp set-up integrated into the pack. Li-Po battery stacking completed.
7.21.09- Ready for Run Demonstrations at AirVenture 2009.
---