The Sonex Aircraft, LLC E-Flight Initiative proof-of-concept electric-powered Waiex aircraft began longer duration flight testing with a second flight of the aircraft on March 30, 2011 at Wittman Regional Airport in Oshkosh, WI. During the March 30th flight, the E-Flight Waiex acheived a full circuit of the airport traffic pattern, as planned. A third flight was also conducted on April 13, 2011 in which a full pattern was again flown.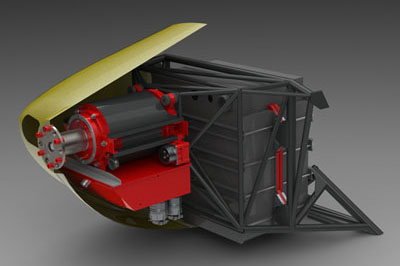 The flight envelope expansion plan with the v3.0 motor and v11.0 controller installed in the Waiex Airframe will continue through the Spring and early Summer. The goals are to Evaluate the total power output and maximum duration for this motor, controller, and battery combination and to compile data on the charge including how long it takes to fully recharge the battery pack at various levels of discharge.
As stated in the first flight report, the E-flight team has also already started motor v4.0 and controller v12.0 with improvements coming from what we've learned from the current set-up's ground and flight runs. The images on this page show the latest configurations of the motor and controller design. The video below features footage of the March 30th and April 13th flights.
---