The e-Flight Initiative research and development project to develop electric powered flight continues to make steady progress in the Hornets' Nest. Although the e-Flight electric system is being targeted as a replacment for any internal combustion aircraft installation producing approximately 80 horsepower, several new Sonex Aircraft airframe configurations are being considered for electric power, including the "Electric Sport Aircraft" concept pictured above.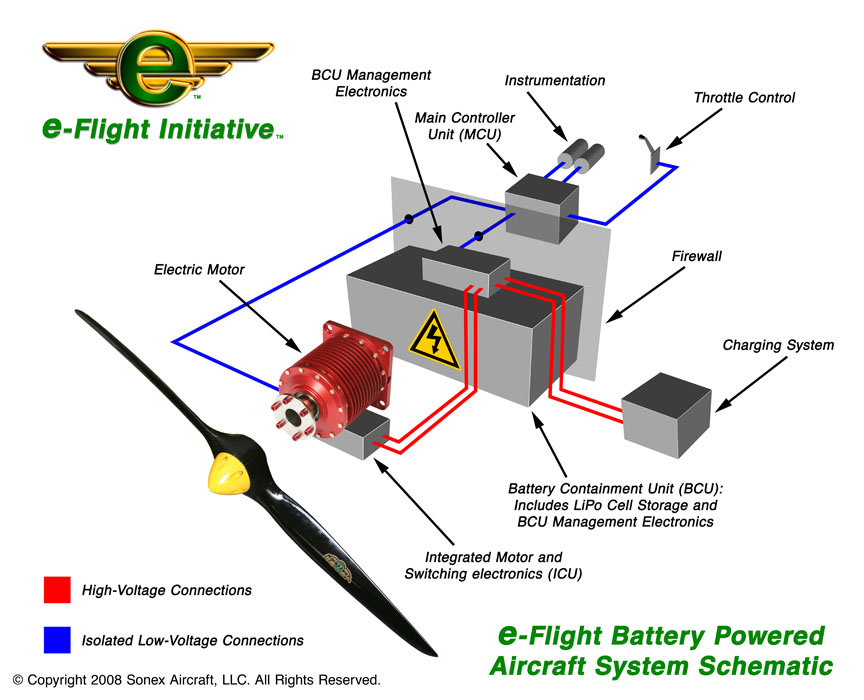 The e-Flight electric system schematic illustrates the basic layout of the electric powerplant installation.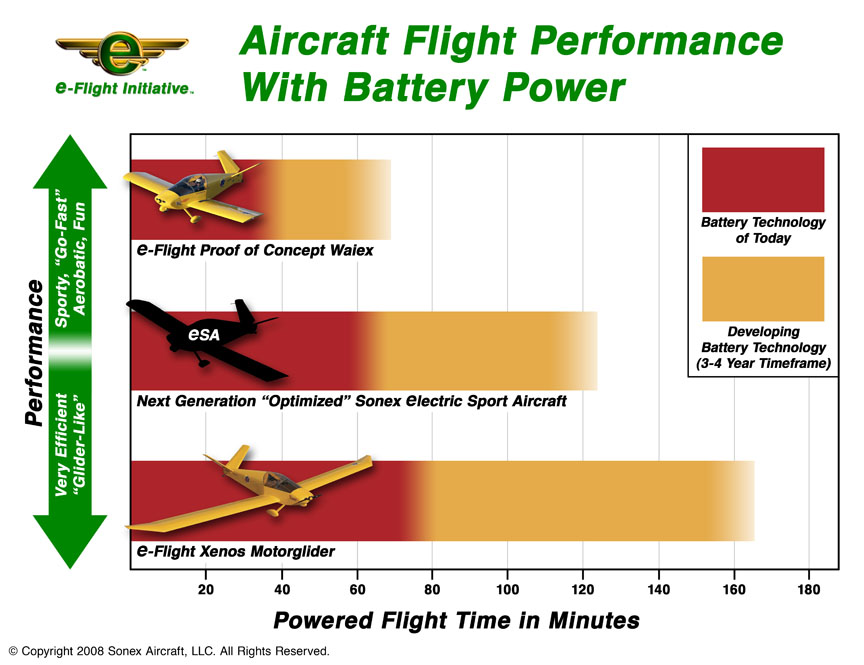 The flight performance chart (bottom, right) shows near-term battery endurance estimates vs. various airframe mission profiles.
Sonex is extremely pleased at the high level of excitement and enthusiasm that greeted the unveiling of our 3 new Research and Development Programs.
All of these programs appeal to different audiences but are all united in providing new and exciting products for Sport Aviation in the traditional Sonex themes of Affordability, Simplicity, Versatility, Performance, Quality, Engineering, and Ease-of-Maintenance. Note that these new concepts DO NOT compete with current Sonex Aircraft products or confuse the market with similar products.
Sonex will continue to post the latest information on all 3 of these programs on this web site. Be sure to check this site regularly for updates.
One special note. None of these Concept R&D products are being offered for sale at this time. All are considered under development. No additional information regarding pricing, availability, or technical information will be released at this time and inquiries regarding any of these topics will not be responded to. We do encourage you to submit your feedback and express your interest in these projects, however, as all public input will be compiled and considered by the Hornets' Nest Research and Development team. Send your feedback to Sonex Aircraft
The E-Flight project has been a huge undertaking for Sonex Aircraft and a handful of talented partners. We've made some major progress over the last couple of years working on a volunteer basis on nights and weekends to solve the many challenges that have presented themselves.
E-Flight is unique in that we have designed and built every component of the E-Flight system from the ground up. That means we own design and production rights and are not reliant on anyone else when it comes time to market and
sell the system. This will significantly cut costs for pilots interested in owning and operating their own electric aircraft.
E-Flight is also unique in that the Sonex Aircraft airframes that are currently sold and supported make perfect matches for the first crop of higher-power Electric Motors. The design and development team are not only airframe designers, but are also honing our skills in the development and improvement of Electric Power Systems. We expect this project to lead to our own line of E-Flight Power Systems to be marketed and sold to not only our own airframe customers, but also to other airframe manufacturers. This greater volume will allow us to keep costs down to the entire aviation community once these products are brought to market.
ESA (Electric Sport Aircraft) Basic Performance & Specifications:
Modified Xenos
8′ Flaps instead of Spoilers
Aerobatic Wing Tips
Span under 36′ (fits in standard hangar)
Electric Propulsion (17 kW-hr battery pack)
Shortened Tail Tips
Controller and Aux Battery in tailcone for CG control.
Performance
Climb:
800-1,000 fpm
Maximum Flight Time
(with 2,000 ft climb):
50 minutes
Maximum Range:
87 miles
Performance (with 14 kW-hr Aux Battery instead of passenger)
Climb:
800-1,000 fpm
Maximum Flight Time
(with 2,000 ft climb):
96 minutes
Maximum Range:
164 miles
Specifications:
| | |
| --- | --- |
| Length: | 19′ 9″ [6.02 m] |
| Wing Span: | 35′ 8″ [10.87 m] |
| Wing Area: | 130.0 sq. ft. [12.1 sq. m] |
| Empty Weight: | 920 lbs [418 kg] |
| Max Gross Weight: | 1320 lbs [600 kg] |
| Motor: | 80 hp Electric |
| Battery Energy: | 17 kW-hr |
| Stall Speed (clean): | 49 mph [79 km/h] |
| Stall Speed (flaps): | 43 mph [69 km/h] |
| Never Exceed Speed: | 170 mph [241 km/h] |
| L/D: | 17:01 |
| Design Limits: | +4.4, -2.2 G |
| Construction: | All Aluminum Riveted |
You will continue to read more about electric flying every day…just as you will read more about electric cars, electric motorcycles, electric boats, etc. Almost all Electric Aircraft flown to date have been ultralights or motor gliders. It is the goal of the E-Flight team to have a practical, aerobatic-capable, two-seat sport aircraft with one of the most powerful electric motors available at any price.
Some other projects have paid people dedicating 100% of their time, courtesy of funding being poured into them by external investors. The downside of the latter is that if you are spending that much money you are going to expect a return on investment sooner rather than later. By keeping this a grass-roots effort, the E-Flight Team has also been able to control costs and has to date invested much less in this project than a current ready-to-fly S-LSA Aircraft.
Those of you that have followed the E-Flight Program know that it is our intention to first fly our E-Flight Power System in a Waiex Aircraft (N270DC). Once the system is flight proven in this aircraft, we plan to introduce an optimized airframe for the power system. This airframe is being called the ESA (Electric Sport Aircraft).
ESA Frequently Asked Questions:
Why a Xenos with shorter wings?
Last year, the Sonex Design Team released a graph showing flight duration with the currently available batteries. The Xenos has a much longer flight time with its larger wing area. While the Waiex has roughly half the flight time, it will be a sportier feel. The ESA concept is to "split the difference" between these two aircraft and have a Sport Aircraft that maintains a sporty feel and still has a reasonable flight duration given current energy storage technology.
Will the Wings be removable?
Yes, the ESA will have removable wings just like the Sonex, Waiex, and Xenos.
Will the ESA be available as a plans-built aircraft?
No. The ESA will be offered in sub-kits and as a complete kit.
What's the Price going to be?
As low as possible. As you all know, Sonex Aircraft is one of the most efficient grass-roots aviation businesses in existence with a keen eye on keeping aviation affordable and accessible to everyone. We operate with low overhead and rely on a large network of sub-contractors to keep prices down and quality up. It stands to reason that the ESA Airframe Kit price will be lower than the Xenos kit price (currently $19,495) which results in a completed Xenos with AeroVee Engine for $32,000.
If the design team accomplishes our goal of making the Electric Powerplant and Controller system competitive with the AeroVee Engine, then we would expect an ESA to run right around $30K including propeller, instruments, upholstery, Electric Motor, Motor Controller, and complete airframe kit.
That leaves the largest part of the price unknown as the battery/power system. There is a huge amount of electron storage research activity with the common goal to deliver a power system that is light-weight, reliable, easy to maintain, and inexpensive.
Will Sport Pilots be able to fly the ESA?
We anticipate that the Light, Sport Aircraft rules will be quickly adapted to allow for Electric Flight by a Sport Pilot. In our opinion, the ESA will be an ideal aircraft for Sport Pilots to fly just as the rest of the Sonex Aircraft Family is.
How can I prepare myself now for flying a ESA AND ensure that I'll be able to obtain insurance?
All flight time is good flight time. Build flight hours in a wide range of aircraft, but focus specifically on higher-performance, low-wing, all-metal aircraft. Sonex, Waiex, and Xenos flight time is ideal, but any of the low-wing S-LSA Sport Pilot Aircraft currently flying will be great for getting yourself ready to fly your ESA. The higher the flight time you have in a wider range of aircraft, the lower your insurance bill will be.
Will the ESA be Aerobatic?
Yes. You will be able to do the same Aerobatic Maneuvers that Sonex, Waiex, and Xenos Pilots have become so famous for. Loops, rolls, spins…all kinds of fun stuff…so add Aerobatic flight training to your To-Do list and you'll be ready to go when your ESA is complete.
---