Please note that links on older archive pages are often not active. These pages serve purely as an informational archive. If you have trouble obtaining the information you need from this site, please email the webmaster with your questions.
---
Australian Sonex builder Lynn Jarvis won "Best Overall Aircraft" at Natfly 2006, the national meeting of Recreational Aviation Australia at Narromine NSW, Australia. This marks the third year in-a-row that Jarvis has taken home these honors for his Sonex (S/N 0143) from the Narromine show, at which hundreds of aircraft are displayed and judged.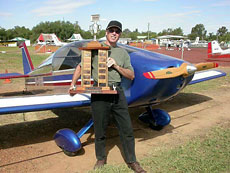 "Shocked and surprised can't describe my reaction," remarked Jarvis. "I believe a lot has to do with the design itself, the only Sonex on the field, and this time with the new gleaming white glass covered Sensenich prop which sets off the paint job perfectly… I met with quite a number of [Sonex] builders, some I had previously known only from emails. Like the previous meetings, there were so many interested people I talked myself hoarse."
Sonex Aircraft, LLC extends its congratulations to Jarvis for this achievement. His fine workmanship has won the highest praises of three separate judging panels at Australia's premiere recreational aviation event, and has been an inspiration to other Sonex builders worldwide.