The 2020 Midwest Sonex Fly in is still on for June 6th. Amid the turmoil of covid-19 this could change. As things progress we will review and assess the situation. Safety is always priority.
Stay tuned for updates.
---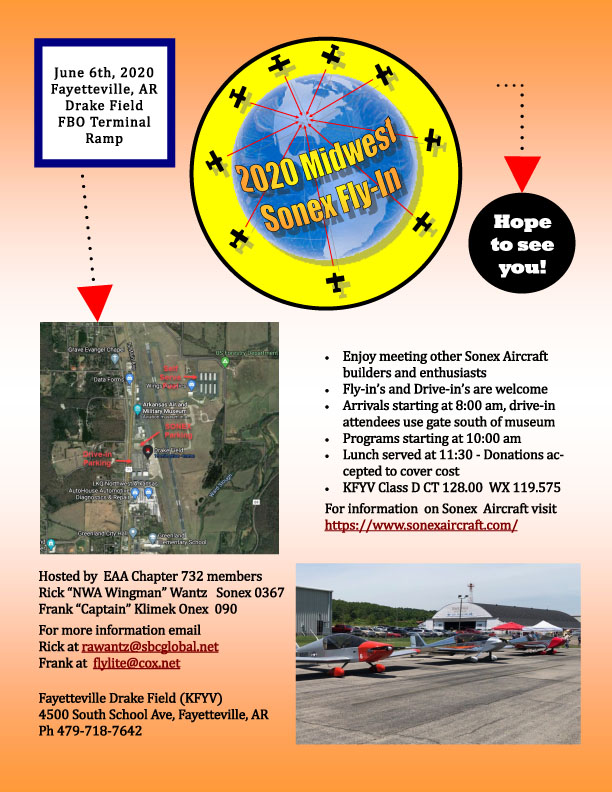 Well Sonex owners, builders and soon to be Sonex flyers and wannabees…..Back by popular request the 2020 Midwest Sonex Fly-In is once again hosted at KFYV, Drake Field in Fayetteville, Ar. by Rick "NWA Wingman" Wantz, Sonex 367SX, and myself, Frank "Call the tower" Klimek, Onex 1970T.
The date is Saturday June 6, 2020 starting at 8:00 a.m. and finishing when the last plane departs.
We are based in Fayetteville, Arkansas at Drake Field located in the beautiful Ozark Mountains in northwest Arkansas. Last year there were 13 Sonex aircraft including one SubSonex from Oklahoma. Kip Laurie from way out east and Jeff Schultz from the KC area. This year we will be meeting in the main terminal building with Sonex parking in the "keyhole" just north and adjacent to the terminal. The Arkansas Air Museum and the Military Museum are next door and we are working on a discount for those that want to tour both displays.
Food and drink will be provided for the attendees.
If anyone attending would like to speak about safety, flying or building, it would be welcomed and greatly appreciated. Enjoy the company of so many other like-minded people comparing notes, ideas and trading stories.
All owners, builders, plans holders, wannabees and ALL pilots and planes of any descriptions are welcome to attend. Hopefully we draw the usual crowd along with other Sonex owners from Oklahoma, Texas ans Mississippi, Missouri and Kansas. There will be additional information following as time goes on also a rain check date will be set later on, just in case.
See the Report from Last Year's Event!
Hope to see you there.
Hosted by EAA Chapter 732 members
Rick "NWA Wingman" Wantz Sonex 0367
Frank "Captain" Klimek Onex 090
Fayetteville Drake Field (KFYV)
4500 South School Ave, Fayetteville, AR
Phone: 479-718-7642