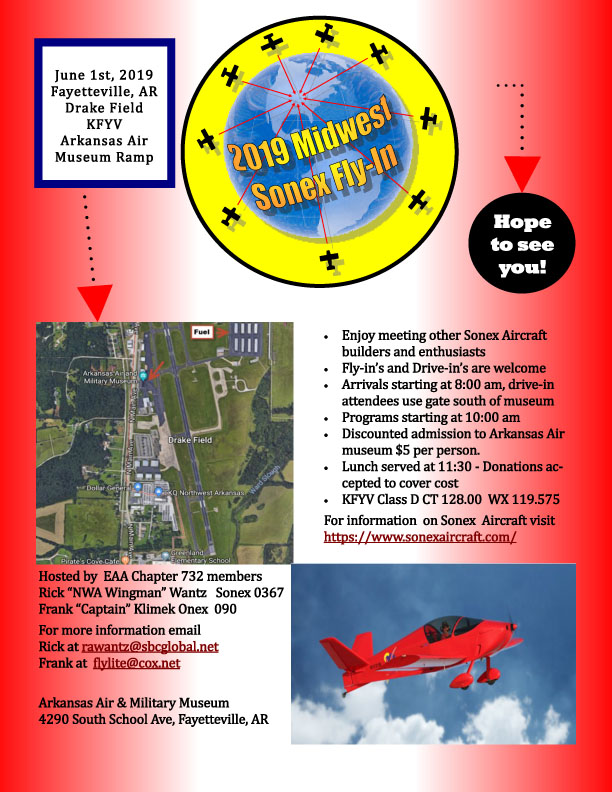 The 2019 Midwest Sonex Fly-in will once again be based in Fayetteville, Arkansas at Drake Field, KFYV, located in the beautiful Ozark Mountains in northwest Arkansas. The date is June 1, 2019 with arrivals starting at 8:00 a.m. and we will be finishing when the last plane departs. We have our EAA 732 chapter's meeting room available located in a beautiful WWll era hangar which also houses the Arkansas Air Museum. Lunch served at 11:30 – Donations accepted to cover cost. Sonex builder's programs will start at 10am. All Sonex owners, builders, pilots and planes of any type, and those interested in visiting with other Sonex enthusiasts are encouraged to attend. Warning: If you fly around the area you will be tempted to sell out and move here.
See the Report from Last Year's Event!
Hope to see you there.
Hosted by EAA Chapter 732 members
Rick "NWA Wingman" Wantz Sonex 0367
Frank "Captain" Klimek Onex 090
Arkansas Air & Military Museum
4290 South School Ave, Fayetteville, AR